Glacier Point: Top Day Hikes To Explore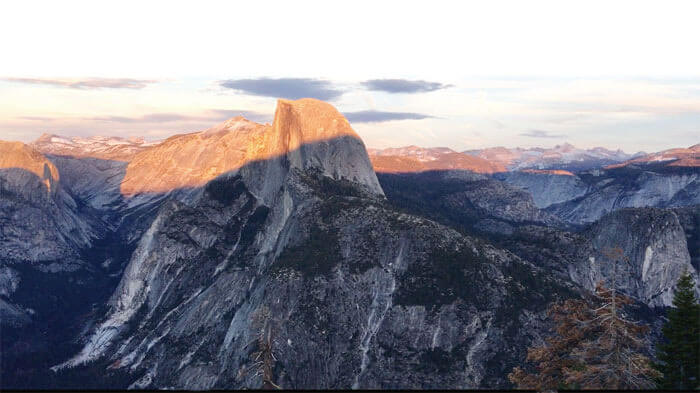 Glacier Point without a doubt is one of the most popular places to visit in Yosemite. Glacier Point is lauded for one of Yosemite's absolute grandest views. The point offers a superb view of several of Yosemite National Park's well-known landmarks including Yosemite Valley, Yosemite Falls, Half Dome, Vernal Fall, Nevada Fall, and Clouds Rest. Day hikes along the Glacier Point Road are the best way to explore and experience Yosemite's breathtaking views. Questions I often ask myself anytime I visit a new park are posted on this post for my own personal use. Feel free to check it out.
What is Glacier Point?
Glacier Point is a viewpoint above Yosemite Valley in Yosemite National Park.
How was Glacier Point Formed?
Glacier Point was formed by the wearing away of Yosemite's glaciers. Glaciers in Yosemite slowly over time formed Yosemite Valley. Its origin is definitely proved by the presence in it of rocks derived from Little Yosemite Valley and the Sierra Nevada.
How high is Glacier Point?
Glacier Point sits at an elevation of 7,214 feet, 3,200 feet above Half Dome Village.
When does Glacier Point Road Opens?
Service is available when the Glacier Point Road is open (typically late May through October). Yosemite NPS website has all the latest Glacier Point Road Updates.
What are popular day hikes along Glacier Point Road?
1. Dewey Point has fantastic views looking down onto Yosemite Valley, especially El Capitan. It is 8.2 miles (13.2 km) round-trip with an elevation gain of 750ft (225 m). It takes about 4–6 hours to complete the entire hike. Once you've reached Dewey Point, it's only half a mile or so farther to Crocker Point and 0.7 miles to Standford Point . Both places offer incredible views.
2. Four Mile Trail is 4.8 miles (7.7 km) one way with 3,200ft (975 m) elevation change. It begins at Glacier Point parking area. The Four Mile Trail follows a series of switchbacks down the south wall of Yosemite Valley. Although lacking shade during the heat of summer, this trail has no lack of views—El Capitan and the Cathedral Rocks tower to the west, while Yosemite Falls plummets in the north and Half Dome looms eastward. The trail ends about a mile west of Yosemite Village, which is accessible by riding the El Capitan Shuttle (summer only) or by crossing the Merced River on Swinging Bridge. The Four Mile Trail and Panorama Trail can be hiked one-way during the summer by purchasing a one-way bus tour ticket between Yosemite Valley and Glacier Point.
3. Illilouette Falls is a 370 feet waterfall in Yosemite National Park. It is located on the Illilouette Creek, a left tributary of the Merced River, in a small side canyon directly across from Vernal Falls. The trail is 5 miles moderately trafficked out and back from Glacier Point. The hike provides stunning views up the Tanaya Creek drainage and views of Vernal and Nevada falls along with an eagle-eyed view of Half Dome. The trail is best used from April until November.
4. Ostrander Lake is a 12 mile (18.3km) moderately trafficked out and back trail with an elevation gain of 1,500ft (450m) and it is considered as moderate. The trail begins at Ostrander Lake trailhead. The first half of this hike gently inclines through forest and meadow where you can observe severe scars and regrowth from a 1987 lodgepole pine forest fire. A steep 1,500 foot (450m) elevation gain opens up to views of granite domes, Mt. Starr King, and the Clark Range just prior to arriving at Ostrander Lake.
5. Panorama Trail is one of the popular trails along Glacier Point Road. The trail provides a close-up view of Illilouette Fall and panoramic views of eastern Yosemite Valley, Nevada Fall, Vernal Fall, high mountain peaks and several different perspectives of Half Dome. Starting from Glacier Point to Yosemite Valley it is about 8 1/2 miles long one-way. It is steep and long but the hike is absolutely worth it! The trail starts at Glacier Point and ends at Happy Isles in Yosemite Valley. It takes about 6 hours one-way to do the hike. The first two miles from Glacier Point is a downhill trek to Illilouette Fall This is the first part of the 3,000ft. descent to the valley floor. The trail crosses the bridge at Illilouette Fall, and there is an uphill small climb out of the creek drainage. After a few miles, the trail descends and brings you to the top of Nevada Fall. The final section of the trail follows the popular Mist Trail. During summer seasons, it is easier to hop on the Glacier Point Bus from Yosemite Valley Lodge and ride the bus to Glacier Point. Round-trip or one-way Glacier Point Tour ticket can be purchased at Yosemite Valley Lodge. Hiking Panorama trail can also be accomplished from Yosemite Valley. It is about 14 miles (22km) total and it starts at the 4-Mile trailhead. The hike starts up from the valley to Glacier Point and then the Panorama Trail back down again.
6. Pohono Trail is 12.9 miles (20.8 km) one way with 2,800 ft (850 m) elevation change. It takes 8-10 hours to complete the hike. The trail begin at Glacier Point parking area or Tunnel View parking area on Wawona Road Most commonly hiked one-way (downhill) from Glacier Point, the Pohono Trail rewards hikers with several viewpoints of Yosemite Valley from the south rim. East to west, these views include Taft Point, Dewey Point, Crocker Point, and Stanford Point. An optional 0.5 mile (0.8 km) side trail gains the summit of Sentinel Dome.
7. Sentinel Dome Trail is a 2.2 mile moderately trafficked out and back. Sentinel Dome for me is one of Yosemite's best hikes! It offers amazing 360-degree views of the park. This hike is absolutely amazing at sunset or the full moon. It is 1.8 miles (2.9 km) round-trip. with 400 ft (125 m) elevation change. The trail begins at Sentinel Dome/Taft Point trailhead.
8. The Sentinel Dome and Taft Point trails can be combined into a loop hike. For a counterclockwise loop, start by hiking Sentinel Dome's northeast side as described previously. After descending the same northeast slope, follow the trail north to the Pohono Trail junction. Take the Pohono Trail southwest, descending to Sentinel Creek before climbing to the Taft Point Trail junction. From here, Taft Point sits a half-mile downhill to the west (right), while the trailhead is a half-mile to the east (left). For a clockwise loop, begin with Taft Point and follow the Pohono Trail to Sentinel Dome, returning to the trailhead via the Sentinel Dome trail. It takes about 3-4 hours to complete the hike.
9. Taft Point and The Fissures Trail is a 2.4 mile moderately trafficked out and back trail. The panoramic view from Taft Point and the rock fissures nearby provide a rewarding hike. The dirt single track descends just 250 feet to an outcropping on the south wall of Yosemite Valley that overlooks El Capitan and Yosemite Falls. Taft Point is marked by a small railing at the cliff's edge. Near Taft Point, you'll see the Fissures—narrow fractures in the granite called joints. Watch out for drops near these fractures of up to 2,000 feet!
---
---