Half Dome Day Trek via John Muir Trail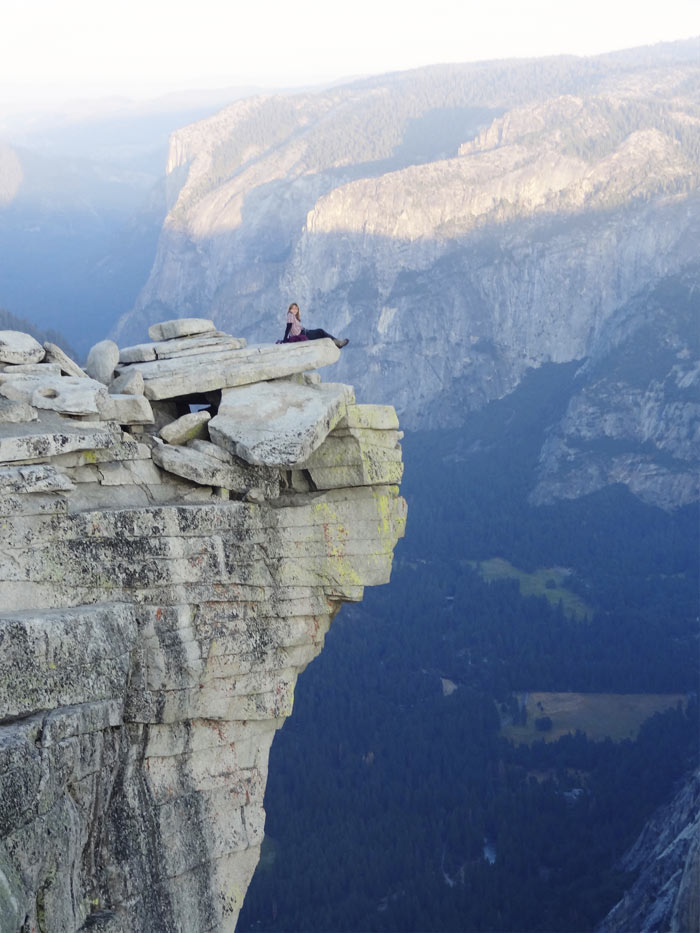 Half Dome in Yosemite captures the hearts of millions of guests visiting the park each year. Hiking Half Dome is one of the most popular hikes every ambitious visitor desires to hike. The trail has 900 feet (300 meters) worth of spectacular waterfalls, stunning panoramic vistas at the top and hand-clamming cable ascent that will test your courage and your strength. Safety tips and trail information listed below are documented for my own personal use. Feel free to check it out.
BEFORE YOU START:
Watch for Weather Reports: Unpredictable weather patterns on Half Dome can come out of nowhere. Slip and falls are one of the most common injuries happen on the Mist Trail and tragic falls on Half Dome. From sub-dome to the summit, the trail is above the tree line, totally exposed to the weather. If you are climbing up the cables and you see clouds over your head, it is simply not recommended it to continue.
Wear hiking shoes with good traction. There are spots on the Mist Trail where it is narrow, slippery and wet. Wearing hiking shoes with good traction can help with avoiding slip and falls. Tennis shoes, unfortunately, are not sufficient for a successful climb to Half Dome.
Be In Good Physical Condition: Climbing Half Dome and even to the Subdome is challenging. To get to the base of the cables nearly as serious as the cables themselves. The steps are 8,000ft. in elevation where the air is thinner and the breathing gets challenging. The hike becomes strenuous and difficult. Good physical conditioning is crucial to a successful hike on Half Dome.
Wear Gloves, Harness, and Clips: Gloves, harness, carabiner, and Y-shaped lanyard can be purchased at Mountaineering sports shop in Curry Village. It is not required, but helpful to have.
HALF DOME TRAIL INFORMATION: (10-12 hours one-way)
It is a 14-mile round-trip and gains a 5,000ft. of elevation starting in Yosemite valley. To get to the trailhead, take the Yosemite Valley Shuttle Stop #16. A Half Dome Permit is required seven days a week to access the cable section of the trail. Most permits are awarded through a lottery that takes place at the end of March, with additional lotteries of 50 or so permits per day taking place throughout the summer two days in advance. Crowd factor is high, and summer heat can drain you faster than you might think. Please be prepared.
Sunrise Half Dome Day Trek Photo Gallery
---
---