Mount Whitney Day Hike via Mount Whitney Trail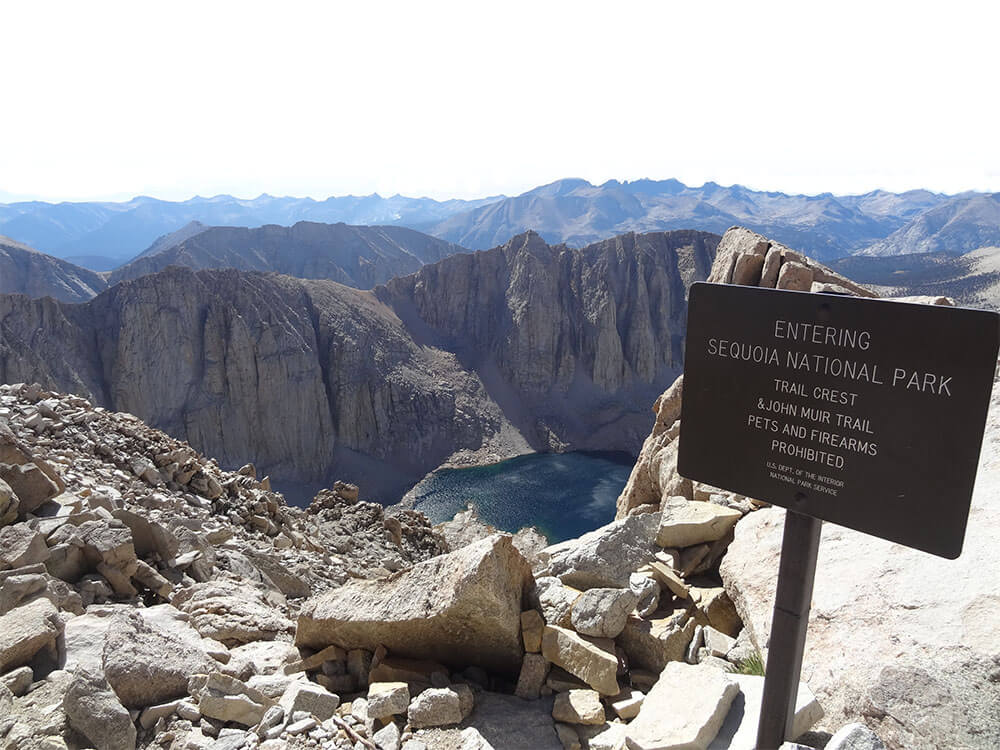 Climbing Mt. Whitney in one day is a GIANT stair-master workout I have ever done in my life! Mount Whitney is the tallest mountain in the contiguous United States and the Sierra Nevada, with an elevation of 14,505 feet (4,421 m). The west slope of the mountain is in Sequoia National Park and the summit is the southern terminus of the John Muir Trail which runs 211.9 mi (341.0 km) from Happy Isles in Yosemite Valley. Climbing Mt. Whitney all in one day is strenuous and not recommended if you are not physically conditioned to handle the high altitude, issues with dehydration and the physical aches and pains that come with climbing up the mountain. Questions and answers listed below are documented here for my own use. Feel free to check it out.
How hard is it to climb Mt. Whitney in one day?
Whitney Trail starts high at 8,600 feet and ascends gently over the course of its 6,000 vertical feet gain in elevation. The average of 550-feet in elevation gain per mile makes for a relatively gentle ascent. For fast hikers, the ascent can be done in about 5 hours, with about 7 to 8 hours for the average hiker.
How long is the Mt. Whitney Hike?

The trail starts at Whitney Portal, 13 miles (21 km) west of the town of Lone Pine, California. The hike is about 22 mi (35 km) round trip, with an elevation gain of over 6,100 feet (1,860 m).
Can you climb Mt. Whitney all in one day?
Mt. Whitney is a 22 miles round trip hike, and is one of the most famous extreme day hikes. The ascent time for a day hike up Mt. Whitney is a fast pace of 5 hours, a moderate time of 7-8 hours, and a slow hike of 10 hours. Going down is about 2-3 hours quicker than going up.
How much does it cost to climb Mt. Whitney?
A $15.00 per person recreation fee is charged for trips entering the Whitney Zone (Mt. Whitney, North Fork of Lone Pine Creek, and Trail Crest Exit). Day Permits can be obtained in Lone Pine at the Eastern Sierra Interagency Visitor Center.
Is climbing Mt. Whitney dangerous?
Whitney is the highest peak in the lower 48. and the climb is hard and can be dangerous. If you begin in Sequoia National Park and approach Mt. Whitney from the west by travelling across the Sierra Nevada range, you should apply for a wilderness permit from Sequoia & Kings Canyon National Parks.
How do I cope with altitude sickness?

What I did to combat altitude sickness is, I start drinking water well in advance prior to my climb to the top. In addition, I also gave myself enough time to acclimate and eat a lot of food that is high in complex carbohydrates such as, pasta, rice, etc. I also trained my body hard mostly running and doing weight lifts every day to prevent any possible injuries.
Trail Routes
The shortest and most popular route to climb Mt. Whitney is a 10.7 mile (17.1 km) trail from Whitney Portal, 13 miles (21 km) west of the town of Lone Pine on the east side of the Sierra. Ice axes and crampons are needed in spring and early summer, but technical climbing equipment is not usually necessary between mid-July and early October. The elevation at the trailhead is 8360′ (2550 meters). The elevation at the summit is 14,494′ (4418 meters).
There are other routes besides Whitney Portal that lead to Mt. Whitney. They begin at less heavily-used trailheads, but require a much longer hike to reach the summit. The High Sierra Trail leaves from Giant Forest on the west side of Sequoia National Park, and is about 60 miles (100 km) one-way. It takes a minimum of 6 days (one way) or 10 days (round trip) to complete. The Sequoia Parks Conservancy's bookstore offers books and maps for planning hikes to Mt. Whitney and elsewhere in the Sequoia and Kings Canyon areas.
---
---