Yosemite Valley Top Day Hikes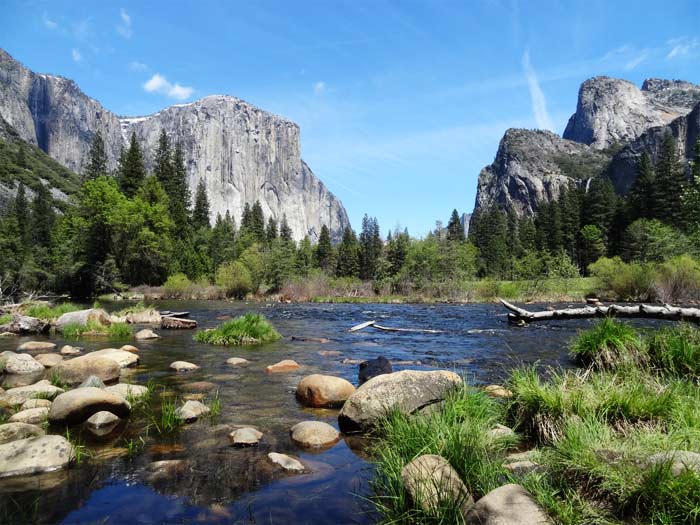 Living and working in Yosemite Valley for several years, I have been fortunate to explore some of the best trails Yosemite has to offer including hiking Half Dome, exploring trails at Glacier Point, Tioga Pass Road, hikes along Highway 395 and even had the opportunity to hike the PCT in the Sierra Nevada. I have explored Yosemite Valley in all seasons including winter. My favorite time to hit the trail in Yosemite Valley are spring and early summer. In spring, waterfalls are at their best, weather is fair, there are far less crowds and for me personally, it is the best time to hit the trails. Summer unfortunately is, my least favorite time to explore the valley. During summer seasons, Yosemite Valley feels like Disneyland! Yosemite Valley is CROWDED and I avoid visiting it at all cost. During summer seasons, my favorite place to check it out is, Tuolumne Meadows.
How was Yosemite Valley was created?
Yosemite Valley was Created from Glaciers. The area that was to become the Sierra Nevada once lay beneath a sea at the west margin of North America. The rock that was formed on this sea floor from deposited silt. mud, and marine organisms was subsequently lifted above sea level and flexed into a mountain range surmounted by a chain of volcanoes much like today's Cascade Range. Granite that formed from molten rock at the roots of these volcanoes eventually would remain as the core of the Sierra Nevada after the overlying sedimentary and volcanic rock gradually weathered and eroded away. A good book to check it out on Geology of Yosemite National Park is, The Geologic Story of Yosemite National Park by N. King Huber.
How much does it cost to get into Yosemite Valley?
$30. More information on fees can be obtained on Yosemite NPS website.
How can I get into Yosemite for free?
There are many options. You can either take the bus, or take the back roads in Wawona. You can also get into the park before 7:00am or late in the evening. The Yosemite entrance booths aren't manned round the clock. You can also hike the John Muir Trail. The Pacific Crest/John Muir Trail runs right through the heart of Yosemite.
What is the best month to visit Yosemite?
May, or early June. If fall is your favorite season to explore, September is also a good time to explore Yosemite Valley. I personally enjoy exploring Yosemite in winter. It is one of my favorite times to check out the park.
Here is a list of some of the trails to check it out in Yosemite Valley.
---
---