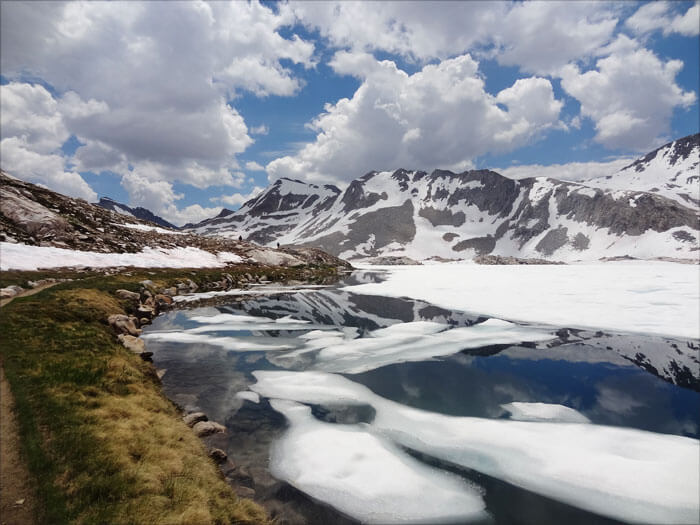 After logging 500 miles of PCT in the Sierra Nevada, here is my take on the trail. Without a doubt, it is one of the most strenuous, hike I have ever done in the Sierra Nevada. Hiking via Sierra Nevada, the trail often left me physically exhausted, fatigued, hydrated and a lot of the times mentally pushed. Is hiking the trail solo can be dangerous? Yes. Preparation, physical conditioning, proper hydration are key to a successful trip. Here are common questions to hiking the PCT in the Sierra Nevada.
Is it dangerous to hike the trail?
In the Sierra Nevada, the trail can be cruel in many ways. Hikers face rattlesnakes exposure, corneal flash burns from snow glare, and heatstroke.
Where do the Sierra start on the PCT?
Sierra section starts at Walker Pass (elev. 5,246'), the trail enters a road-less and wildly scenic realm, being met only occasionally by a dead-end road from the east. It hugs the relatively dry crest through the Chimney Peak Wilderness before reaching and crossing the South Fork of the Kern River near Kennedy Meadows South.
How many miles is it?
505 miles
What is the total elevation gain?
It has total elevation gain of 57,888 feet. It passes through multiple national parks and national forests, including Sequoia, Yosemite, and Kings Canyon.
What is the highest point in the Sierra?
Forrester Pass. The PCT crosses eight named passes above 11,000' including Mt. Whitney in the Sierra section, the first being Forester Pass (elev. 13,180'), the highest point on the entire trail. The route alternates between expansive meadows and conifer forests, then embarks on a 3,300' ascent and traverse to Cottonwood Pass. In Sequoia National Park, the popular John Muir Trail descends from nearby Mt. Whitney (elev. 14,494') to join the PCT. The trails share the same tread for most of the way to Highway 120 in Yosemite National Park's lush Tuolumne Meadows (elev. 8,690')
Where does the Sierra Nevada section end?
Donner Summit. Elev: 7,200ft.
What is the weather like in the Sierra Nevada?
The weather in the Sierra Nevada is unpredictable. During summer seasons, I've hiked through rain, hail and thunder. I have learned my lesson to avoid hiking in storms. I made a habit every day I am on the trail to pitch my tent before 5pm. if not earlier depending on the weather conditions.
How long does it take to hike the trail?
If you do an average of 16-18 miles per day you can be done in a month or less depending on your fitness level, terrain, elevation, weather and pack weight.
---
---