Tahoe Rim Trail: 170 Miles Around Lake Tahoe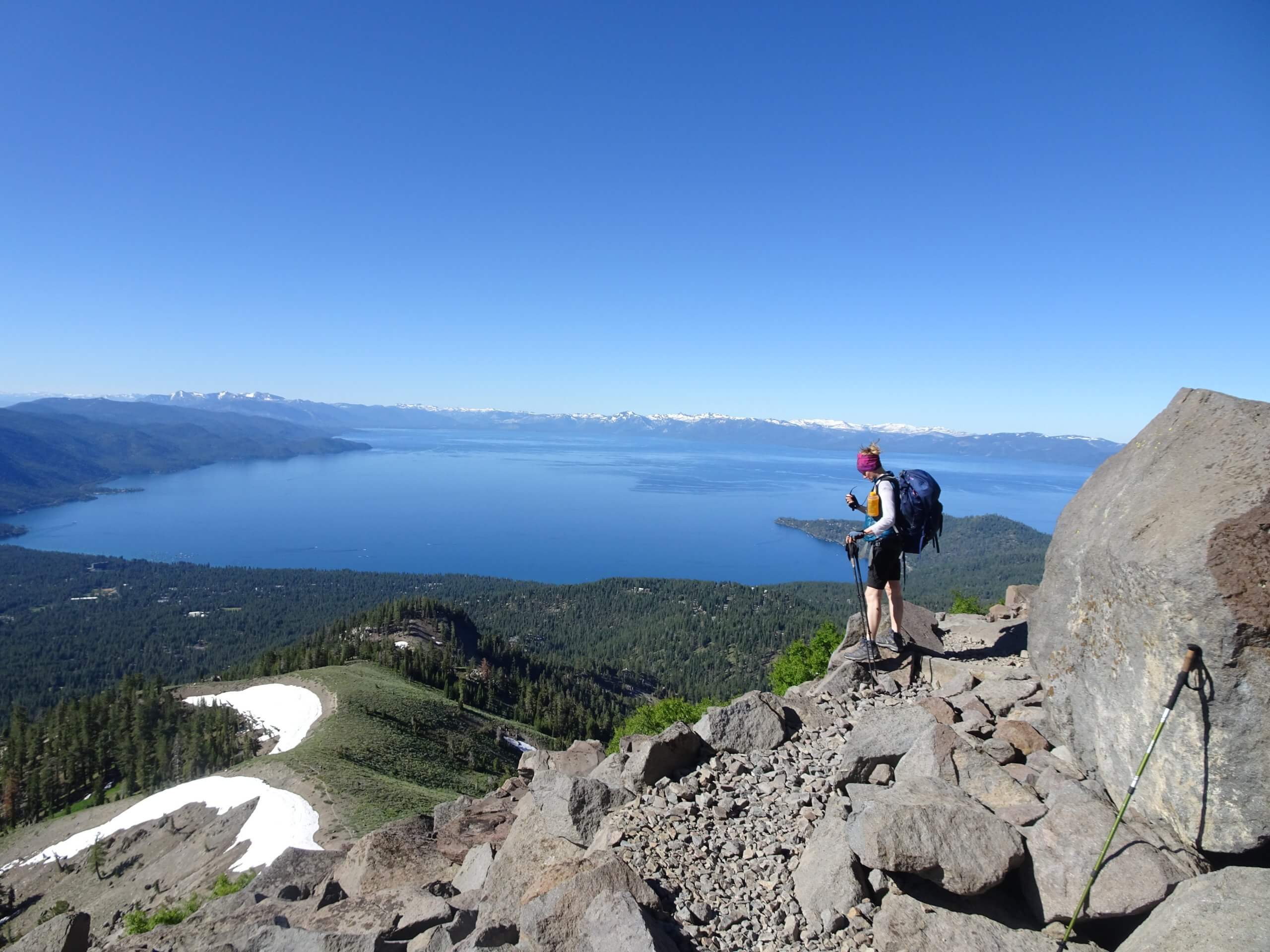 Battling summer heat, mild dehydration, bad blisters, and skin rashes on my feet are among the few things I have endured while hiking the 170 mile Tahoe Rim Trail. This is the second thru-hike I have completed and it was on my bucket list for the longest period of time. My first thru-hike I have completed is, John Muir Trail, back in 2017 and I have to say, hiking the Tahoe Rim Trail was much easier for me. What made it easier is my gear, and there was not a lot of elevation of going up and down. The highest elevation on Tahoe Rim Trail is, Relay Peak, 10,338 ft (3,151 m) and the lowest point is, Tahoe City, 6,240 ft (1,900 m). I started my trek in Tahoe City going clockwise with one resupply in South Lake Tahoe. After two weeks on the trail, I have to say, the trip is out of this world!
Tahoe Rim Trail Additional Information
Resupply Options: There are six various places along the TRT where you can get your resupply. They are Tahoe City, Ca, Kings Beach, Ca, Incline Village NV, Stateline NV, Heavenly Village, and South Lake Tahoe. General Delivery packages can be collected at the US Post Office location. The closest resupply location to TRT is Tahoe City, Ca. It is only 0.4 miles east of TRT.
Heat Exhaustion Prevention Tips: Starting early in the morning and hydrating well the night before is something I often do on thru-hikes. I start my hike around 6:00 a.m. and before the weather gets too hot I am able to chop a good amount of mileage. Finding water on the trail, I use Guthhook App which helps greatly with finding small streams and creeks of water including on the east side of Tahoe Rim Trail. On the east side, well pump at the Marlette Lake campground is not always operational. I fill up my water at the creek which is approximately .75 miles south of TRT/Hobart Hobart road intersection (toward Marlette lake).
Bring a Mosquito Head Net: I strongly recommend getting a Mosquito Head Net. Wearing it, helps greatly with dealing with obnoxious mosquitoes while hiking the west side. Mosquitoes seem to be the worst before climbing to the top of Barker Pass. They are annoying and can slow you down. Using a bug repellent spray is useful but if you are not into having smelly chemicals on your clothes, I strongly recommend bringing one pair of light hiking pants and wearing a light shirt with long sleeves.
Wear proper footwear: Wearing wrong type of hiking shoes is the worst decision I've made on this thru-hike. After buying a pair of Salomon X Ultra Hiking Shoes at REI and 140 miles later into my trip, I had 4 terrible blisters on each foot, losing one of my toenails completely, and finishing my last 25-mile stretch wearing my water shoes. A strong recommendation I have received from PCT and other hikers is to wear ALTRA Women's Lone Peak 4 Trail Running Shoes.
Getting Lost on the TRT: Getting lost on the Tahoe Rim Trail is almost impossible. Tahoe Rim Trail is well marked for travel in both directions, using a system of signs, trail-markings, and posts. Some of the trail markings include posted signs, simple creosote posts, and various markers nailed into trees. The signs exist along the entire lengths of the Tahoe Rim Trail. In some sections, the TRT coincides with another developed trail and shares signage with that trail. The longest example of this is the 50 miles of Pacific Crest Trail (PCT), where markers for both are placed. Distance between markings varies. In some areas, markers are placed every half mile or so; within wilderness areas, you will encounter few if any.
Bring a Topographical Map: Cellular reception is limited and unreliable along the TRT. Where a signal exists, often it is only sufficient for text transmission, not voice. Although useful, electronic technology, such as smartphones and GPS receivers, can provide a false sense of security. I strongly recommend carrying a Tahoe Rim Trail Topographical Map.
Obtaining a permit: If you plan on thru-hiking the Tahoe Rim Trail, you must obtain permits for the Desolation Wilderness. I got my permit at Lake Tahoe Basin Management Unit in South Lake Tahoe. Another office where you can get your permit is Pacific Ranger District in Pullock Pines, Ca. To bypass the quota system, contact the LTBMU Supervisor's Office to obtain your permit. The phone number to call is (530)-543-2694. For trail conditions please visit the Tahoe Rim Trail Association website.
Tahoe Rim Trail Photo Gallery
---
---