Glacier Point Ski Hut – Yosemite's Hidden Treasure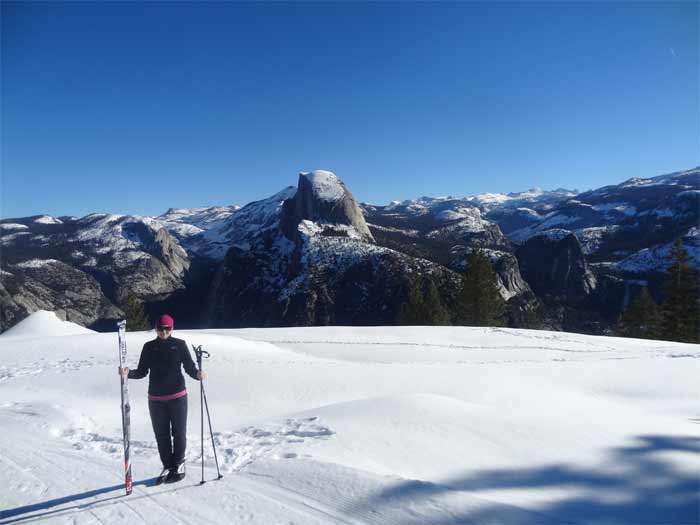 Experiencing Glacier Point in winter is addicting not to mention a breathtaking experience! Yosemite's winter outstanding views of the surrounding mountains and famous Yosemite landmark is unlike anything I have personally seen. Overlook of Yosemite Valley, Half Dome, and the Yosemite High Country in winter is a mind blowing experience! Having lived in worked in Yosemite for four years, I have cross-country skied multiple times to Glacier Point in winter. It is an experience, I will treasure forever! Here is my take on the trip.
BEFORE YOU START:
Plan your trip sensibly, keeping in mind your experience and physical condition. Remember that winter days are short and you may not be able to travel as far as you expect. Before you leave on a trip, let someone know where you're going and when you'll return. Keep track of others in your party. Always carry a map and compass and know how to use them. Unless you're an expert with map and compass, stay on trails, which are indicated by markers on trees. Consider carrying a GPS unit, if you know how to use one. Get a weather forecast (209/372-0200)—then be prepared for the unexpected. Even on short trips, carry proper gear and food for an unplanned bivouac. Always carry and drink plenty of water. If you are thirsty, you are already dehydrated.
CLOTHING SUGGESTION:
Wear wool, fleece, or polypropylene, a wool or synthetic hat is essential. These fabrics retain some warmth even when wet. Pack a waterproof jacket. Carry quick-energy food, water, waterproof matches, a flashlight, and protection from the sun.
FACILITIES:
Glacier Point Ski Hut is located at one of the most spectacular sites in Yosemite National Park. Every summer, the Glacier Point Ski Hut operates s as a gift shop, but during the winter it transforms into a 20-person chalet. The hut includes several sofas, surrounding a wood stove and indoor lavatory facilities. Meals, sleeping bags, pillows are provided and the hut is well maintained during winter months. Latest updates on the hut, please visit Yosemite's Conservancy website. Glacier Point Ski Hut Reservations are not always easy to get, so winter camping is an option. Yosemite snow camping is allowed near the Glacier Point, but not at the point itself. Overnight registration permits can be obtained at the A-Frame building in Yosemite Snowboarding and Ski Area. Yosemite Mountaineering School and Cross country ski center has also more detail information about the trip and can be reached at 202-372-8444.
TRAIL INFORMATION: (4-6 Hours one-way)
The distance from Badger Pass Ski Area to Glacier Point Hut each way is 10.5 miles (16.8 km). Cross-country ski trail to the hut is Glacier Point road. Glacier Point skiing tracks are set by machine on the Glacier Point road. It is truly the best trail for beginners or those wanting a comfortable ski. If you want to do this trip all in one day, leave early. Ski equipment can be rented at Nordic Center. Nordic Center closes at 4:00p.m.
---
---