Ostrander Ski Hut Trek via Horizon Ridge Trail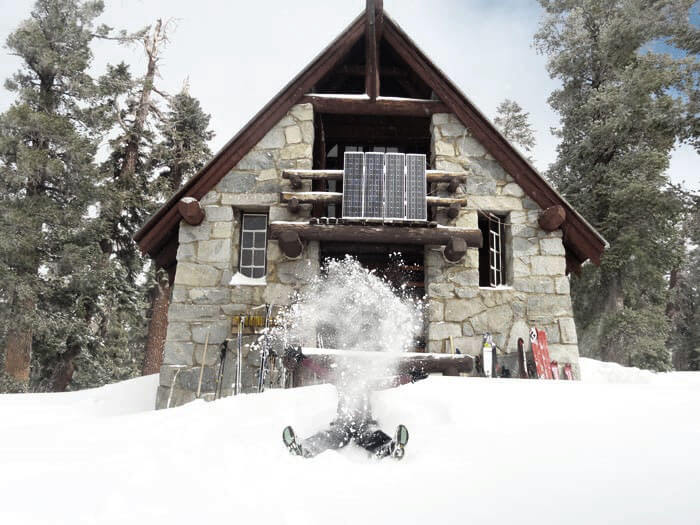 One of my many favorite Yosemite's winter hike is cross-country skiing or snowshoeing to Ostrander Ski Hut. Ostrander Ski Hut was built in 1941, and it is located in the middle of the Sierra Nevada mountains. The hut's elevation is 8,550ft. and it is about 10 miles (16km) one-way from Yosemite Ski & Snowboard Area (formerly known as Badger Pass). The trek is definitely not the easiest and requires a lot of stamina. A majority of the people who do take the Horizon Ridge trail are intermediate and advanced level backcountry, cross-country skiers. To check the current status on the hut and the trail conditions, check out the Yosemite Conservancy Website.
BEFORE YOU START:
Plan your trip sensibly, keeping in mind your experience and physical condition. Remember that winter days are short and you may not be able to travel as far as you expect. Before you leave on a trip, let someone know where you're going and when you'll return. Keep track of others in your party. Always carry a map and compass and know how to use them. Unless you're an expert with map and compass, stay on trails, which are indicated by markers on trees. Consider carrying a GPS unit, if you know how to use one. Get a weather forecast (209/372-0200)—then be prepared for the unexpected. Even on short trips, carry proper gear and food for an unplanned bivouac. Always carry and drink plenty of water. If you are thirsty, you are already dehydrated.
CLOTHING SUGGESTION:
Wear wool, fleece, or polypropylene, a-wool or synthetic hat is essential. These fabrics retain some warmth even when wet. Pack a waterproof jacket. Carry quick-energy food, water, waterproof matches, a flashlight, and protection from the sun.
FACILITIES:
Ostrander Ski Hut houses a maximum of 25 people. Single bed with mattresses, two outdoor toilets, facilities, and community cookware are provided. No electricity or running water at this rustic ski hut. Carrying water from the lake, cooking your own food, and carrying sleeping bags is something you have to do. Ostrander Lake provides amazing views. The views of Half Dome, Clark's Range, Mtn. Hoffman, Mtn. Dana and Mtn. Conness is not to be missed on this trip! They are spectacular! Yosemite Conservancy website has a lot of great information about the hut, reservations, and fees.
TRAIL INFORMATION: (6-10 hours one-way)
There are different ways to get to Ostrander Ski Hut. One of the popular trails to get to the hut is using Horizon Ridge Trail. The trail is 10 miles one-way and is considered strenuous. Good physical conditioning is important to consider for this trip. After initially skiing along groomed Glacier Point Road the tour to the hut via Horizon Ridge climbs to its high point on the ridge, descends to its junction with the Bridalveil Creek Trail route, and finally climbs Heart Attack Hill before the final relatively easy last mile to the hut located on the edge of Ostrander Lake. The Horizon Ridge Trail traverses more open terrain affording views of the surrounding mountains. It is also 1.1 miles shorter and more mileage is spent on groomed Glacier Point Road. These facts make it very attractive in poor weather though you will find yourself more exposed as you traverse the ridge. On the downside is the extra 350 feet you must climb.
---
---