5-Day Trip to Capitol Reef National Park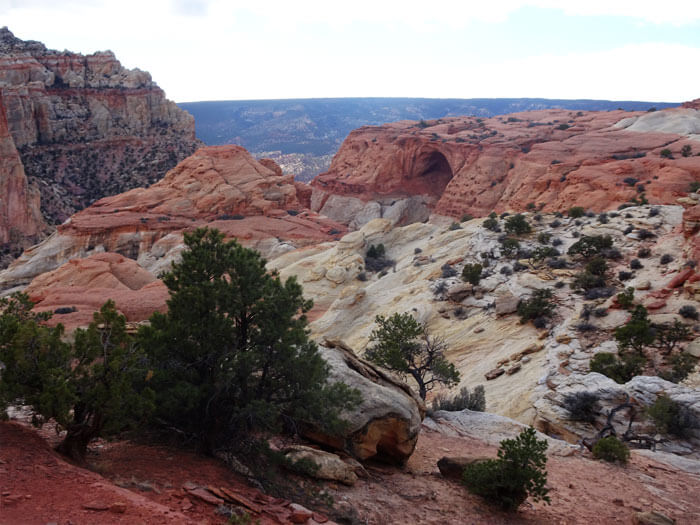 Did you know, that the Capitol Reef National Park is the least visited park among the five top National Parks in Utah? Capitol Reef National Parks visitation is less than 1 million compare to Zion's Over 2 million visitors visiting the park each year. With no lodge in the park and limited hotel rooms in early towns, many international tourists leave the Reef off of their must-see list when traveling to Utah. Seeing the red rock country is a beauty worth checking it out and it is truly one of Utah's best kept secret.
I had the opportunity to check out the park after spending a good chuck of my time exploring Zion, Grand Canyon and Bryce. My first impression of Capitol Reef are of course the memorizing trails, petroglyphs and various artifacts. Mormon pioneers called Capitol Reef their home. Various artifacts found by the archaeologists in the area as being from the Fremont culture. The Fremont are believed to be have been hunter/gatherers who augmented their diet of local wildlife and native plants by planting corn, beans, and squash along what would come to be known as the Fremont River. The Fremont people are believed to have frequented the area from about AD 600-1300. Pictographs and petroglyphs believed to have been created during that frame can be found throughout the park. Scientists report approximately 10,000 feet of sedimentary strata – layers of rock found in, and around Capitol Reef. The rocks have been aged from the Cretaceous Period (about 270 million years ago). Capitol Dome, one of the park's most recognized features and so named because it looks similar to the building in Washington, D. C., is comprised of Navajo Sandstone from the Jurassic Period. Visiting Capitol Reef in the fall for me is the prime time to check out the park. Fall mimics the sunny weather of spring and offering a great choice of spectacular trails.
5 Best Day Hikes in Capitol Reef National Park
Hickman Bridge: This gawk-worthy natural bridge is a three-for-one nature special: After a short hike and a moderate amount of effort, you'll see the bridge in question, its kid sister — the miniature Nels Johnson bridge — and the ruins from a Fremont pit house. Now that's some efficient fun!
Cathedral Valley: Want to see all the world's religious architectures done in red rock by an invisible geologic hand? Head over to the remote Cathedral Valley, where you can wander amongst the Temples of the Sun, Moon and Stars, as well as the Walls of Jericho. When you're done picking your jaw off the ground, head away from these stone monoliths to Glass Mountain — a hill of shimmering crystals — or the giant Gypsum Sinkhole.
Goosenecks Overlook: Get some perspective on life and eons of geologic time with this quick jaunt to a vista overlooking Sulphur Creek, which winds it way in tight turns through a layer cake of rainbow rock 800 feet below.
Cassidy Arch: Cassidy Arch Trail is 3.5 miles round-trip. It forks out of Grand Wash about three quarters of a mile from the parking area. The Cassidy Arch Trail ends above the arch itself, offering great photo opportunities from a higher vantage point. There are no official routes to reach the base of the arch.
Frying Pan Trail is worth visiting. This trail could easily be just an extension of either Cohab Canyon or Cassidy Arch. The views are absolutely stunning. The distance is 3.5 miles and is rated as strenuous.
---
---