10 Top Alpine Lake Hikes In Glacier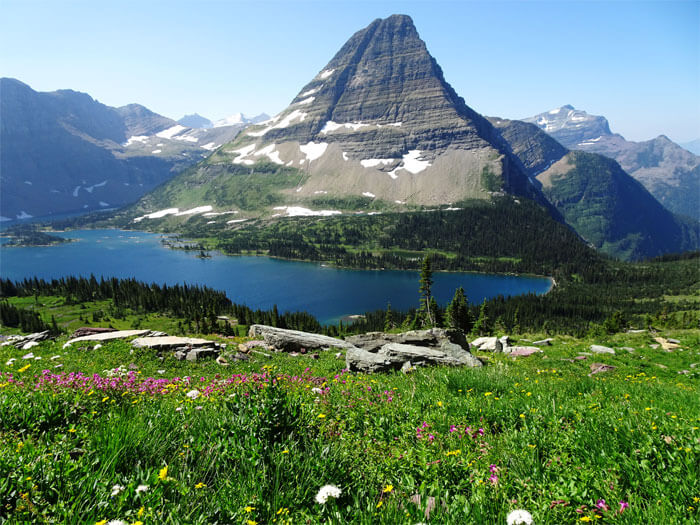 During summer of 2018, I covered over 120 miles of trails including some of the secluded trails to alpine lakes in Glacier National Park. Glacier National Park has over 762 alpine lakes covering about 43 square miles, and 561 streams. These majestic valley lakes are the legacy of ice age glaciation. An ice age is a long interval of time (millions to tens of millions of years) when global temperatures are relatively cold and large areas of the Earth are covered by continental ice sheets and alpine glaciers. Many of the lakes fill an imprint left by valley glaciers. They are long, narrow, and are oriented east to west. Here is a list of my favorite lakes.
1. Cracker Lake
Cracker Lake is a popular day hike destination for travelers in the Many Glacier area with an elevation gain of 1,120 feet. The trail winds from the shore of SWiftcurrent Lake up a forested ridgeline to a wide, meadowy basin filled with wildflowers and butterflies. Cracker Lake is a cold body of water made turquoise by light refraction through its load of suspended glacial silt. Ath the head of the lake, the old Cracker Mine lies beneath the towering cliff walls of Mount Siyeh. There is also a small campground near the head of the lake for backpackers. This trail receives horse traffic, so you should be prepared to yield to saddle stock when meeting on the trail.
2. Iceberg Lake
Iceberg Lake Trail is one of my favorite hikes I enjoy exploring. It is packed with rich scenery! The stunning destination, as well as the brilliant wildflowers along the route, make the Iceberg Lake Trail one of the popular hikes in the park. Iceberg Lake is a striking aquamarine tarn surrounded on three sides by towering cliffs. Ice-out may not occur until mid-July and bergs for which the lake was names may be seen floating about well after that date. The trail crosses wild animal habitat including grizzly bears, bighorn sheep, and wild mountain goats. I was lucky to get a close view of bighorn sheep. Bighorn sheep inhabit about 3.7 million acres in Montana.
3. Gunsight Lake
Gunsight Lake is located in Glacier National Park, in the U.S. state of Montana. The lake is surrounded by high peaks including Fusillade Mountain to the north and Gunsight Mountain to the west. Hiking to Gunsight Lake is 6 miles one-way with an elevation gain of 1500ft.
4. Hidden Lake
Hidden Lake Trail is a 4.9 mile heavily trafficked out and back trail located near East Glacier Park, Montana that features a lake and is rated as moderate. Uphill hike from the top of Logan Pass to great surprise view of Hidden Lake, with the option of hiking down to the lake. From Hidden Lake Overlook to Hidden Lake is an additional 1.4 miles one-way. The trail gets pretty crowded, so it is always best to start hiking early in the morning and sometimes the best time to spot wildlife. It is a great hike that is not to be missed!
5. Redrock Lake
Redrock Lake is located in Glacier National Park, in the U. S. state of Montana. Mount Wilbur is west of Redrock Lake. At 1.7 miles hikers will reach Redrock Lake, the second destination on this hike. The views from this lake are also quite beautiful. You'll have commanding views of 8851-foot Mt. Grinnell and Swiftcurrent Glacier towards the southwest, and 8436-foot Swiftcurrent Mountain almost directly towards the west. If you look closely you may be able to spot the fire tower atop Swiftcurrent Mountain.
6. Avalanche Lake
Avalanche Lake Trail is 2.3 mi (3.7 km) miles one-way with an elevation gain of 500 ft (152 m) Trailhead is at the Avalanche Picnic Area. The lake sits at the base of 8694-foot Bearhat Mountain, which rises almost 4800 feet above the lake towards the northeast. The mountain dominating the view towards the south is 7886-foot Little Matterhorn. If you look closely at the cliffs and mountains that surround the lake you'll notice several long waterfalls plunging hundreds of feet as they make their way towards the lake. Many of these waterfalls originate from Sperry Glacier, which rests beyond Little Matterhorn and can't be seen from the lake.
7. Grinnell Lake
Grinnell Lake is located in Glacier National Park, in the U. S. state of Montana. Named after George Bird Grinnell, the lake has an opaque turquoise appearance from the rock flour which is transported to the lake from Grinnell Glacier. Grinnell Lake Trail offers a level hike along a string of glacier-fed lakes. The trail departs from Many Glacier Hotel on the northeast side of Glacier National Park. There are trails along opposite sides of two beautiful subalpine lakes preceding Grinnell Lake, as well as a short spur to a waterfall, that give hikers a few options. Also, a ferry service that transports guests from Many Glacier Hotel across the first two lakes for those who prefer less hiking and more on-the-water leisure. Even hiking the full distance of 7.5 miles round trip requires just 100 to 300 feet of elevation gain to reach Grinnell Lake (depending on your route). Grinnell Lake Trail makes for a non-strenuous day hike in a spectacular setting.
8. Lake Josephine
Lake Josephine is located in Glacier National Park, in the U. S. state of Montana. Swiftcurrent Lake is immediately to the northeast of Lake Josephine and the two lakes are separated by a short stream. The loop hike around Lake Josephine begins from either the boat dock at the Many Glacier Hotel, or from the Grinnell Glacier Trailhead near the Many Glacier Picnic Area. total mileage to complete the loop is 5.8 Miles with an elevation gain of 225 feet.
9. Poia Lake
Poia Lake Trail climbs through a mostly lodgepole pine forest before descending into Kennedy Creek basin. There, the trail is more open, crossing ridges of subalpine plants, spruce and fir trees, and cream colored boulders of billion-year-old Altyn Limestone. Poia Lake itself was quarried by an Ice Age glacier, but is dammed by an erosion resistant ridge of Altyn Limestone at the foot of the lake. The trail continues up and over Red Gap Pass and down into the Belly River drainage. A long day or backpack from Many Glacier to Poia Lake is 6.4 (10.5km) one-way.
10. Otokomi Lake
A day hike or short backpack from Rising Sun Motor Inn to Otokomi Lake is 5 miles (8km) one- way. It has an elevation gain of 1882 feet. The trail passes up Rose Creek along the Lewis thrust fault to a low-elevation cirque lake among blocky, reddish mountains. Otokomi Lake is a place to spot grizzly bears due to high presence of cut-throat trout in the lake.
11. Ptarmigan Lake
Ptarmigan Lake is situated below the Ptarmigan Wall. The lake is a 4.3 miles hike from the Swiftcurrent Auto Camp Historic District by way of the Ptarmigan Trail. The hike in my opinion is out of this world. One of my favorites!
---
---