8 Top Day Hikes To Explore In Death Valley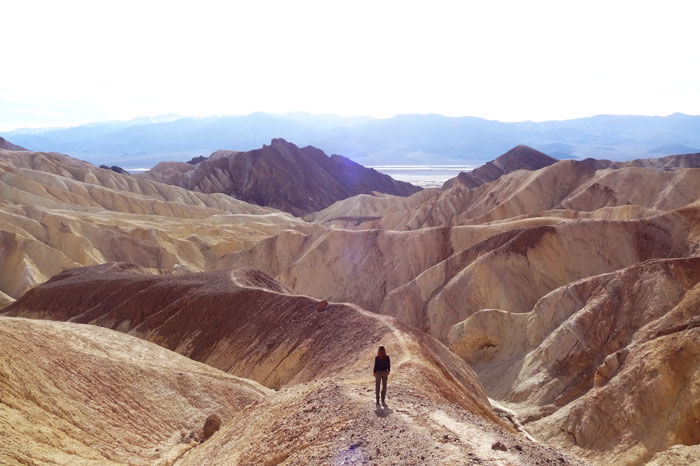 Death Valley National Park is one of those parks I hesitated to visit for many years. The name Death Valley hardly sounds inviting. Dry hot climate, vast desert, isolated landscapes did not have any appeal to me. I mostly imagined Death Valley to be an arid wasteland, devoid of water and life. After visiting the park for a week, I learned a lot! I discovered and learned a lot about the natural history of the park, geology, trees, mammals, birds, and other plants and wildlife of the area. Here is a list of day hikes to explore in Death Valley.
1. Badwater Basin
Badwater Basin is a must-stop on any first trip to Death Valley National Park. Badwater Basin is the lowest point in North America, with an elevation of 282ft. below sea level. The area gets less than two inches annually and no water can flow out of the basin. The water gets trapped and evaporates, leaving behind mineral deposits that cover the basin like a salty dusting of snow. The salt flats in Badwater Basin cover nearly 200 square miles, among the largest protected salt flats in the world. Max length for Badwater Basin is 7.5 miles (12km) and Max width is 5.0 miles.
2. Dante's View
Dante's View is a viewpoint at an elevation of 1,669 m (5,476 ft) above the sea level, along the crest of the Black Mountains, overlooking Death Valley. The viewpoint offers beautiful views of Badwater Basin, Telescope Peak, and many other beautiful peaks. It is easily accessible, and it gives the best overall views of southern half of the national park. From the roadside overlook, a short path climbs to the actual summit (Dante's Peak), which has even better views, while nearby Coffin Peak is reachable by a rather longer but still relatively easy off trail hike, and gives an alternative perspective, revealing more of the lands to the south and east. Total distance is up to 1 mile or more (out and back) with an elevation change: 200 feet.
3. Golden Canyon – Gower Gulch Loop Trail
Golden Canyon – Gower Gulch Loop Trail offers some of the most stunning beautiful red mudstone, colorful mosaic conglomerates and landscapes in Death Valley National Park. The 4.3-mile trail begins with a one-mile trek up Golden Canyon. The route up Golden Canyon is gradually uphill through a rocky corridor of towering golden walls. Numbered markers along the way make the canyon easy to follow.
4. Mesquite Flat Sand Dunes
Mesquite Flat Sand Dunes is the most known and easiest place to visit in Death Valley. They are located in central Death Valley near Stovepipe Wells. The Mesquite Flat Sand Dunes are at the northern end of the valley floor and are nearly surrounded by mountains on all sides. Mesquite Flat Sand Dunes are 100ft. (30- meters) high. The primary source of the dune sands is the Cottonwood Mountains which lie to the north and northwest. A small parking lot located off Highway 190 three miles south of Stove Pipe Wells offers a great starting point for a trek out to the dunes. Total miles out and back is 3 miles.
5. Mosaic Canyon
Mosaic Canyon Trail is a hike that is out of this world. It is a fine specimen the geology of Death Valley National Park. The trail is 4-mile moderately trafficked out and back, and it is a hike you don't want to miss. The trail offers beautiful views of water-polished conglomerate rocks that look like mosaic tiles grouted onto the canyon wall. The best water-polished marble in the entire canyon is between 0.21 and 0.27 miles from the trailhead.
6. Salt Creek Interpretive Trail
Salt Creek Interpretive Trail is one of the most places I absolutely loved exploring in Death Valley. There is a stream flowing on the valley floor, more than 200 feet below sea level. Like all desert oases, plants and animals congregate around its life-giving waters. It is home to one of the most amazing small creatures found nowhere in the world. They are called, Salt Creek Pupfish (Cyprinodon salines).
They are able to survive 100- degree temperatures and live in a water where water salinity is higher than the ocean. Even more surprising, the rare Salt Creek Pupfish has thrived in its seasonally fluctuating waters for thousands of years, despite all odds.
7. Wildrose Peak Trail
Wildrose Peak Trail is one of the spectacular trails I absolutely enjoyed hiking in the backcountry of Death Valley National Park. The peak is the northernmost summit of the Panamint Mountainsí highest section. The 8.4-mile round-trip trail starts at the north end of the charcoal kilns and climbs steadily up a drainage thick with pinyon pine and juniper. The final two miles of trail meanders along a forested ridge and switchbacks up the peak, revealing increasingly spectacular views. It is a rewarding hike and it is filled with incredible panoramic vistas of the valley.
8. Zabriskie Point
Zabriskie Point is perhaps is the most famous Death Valley viewpoint. Zabriskie Point is a famous overlook of colorful ravines and hills at the edge of the Black Mountains. The area is composed of sediments from Furnace Creek Lake, which dried up 5 million years ago—long before Death Valley came into existence. For some people, this place is no more than a scenery. For me, it is an awesome place, especially at sunrise!
Death Valley National Park Map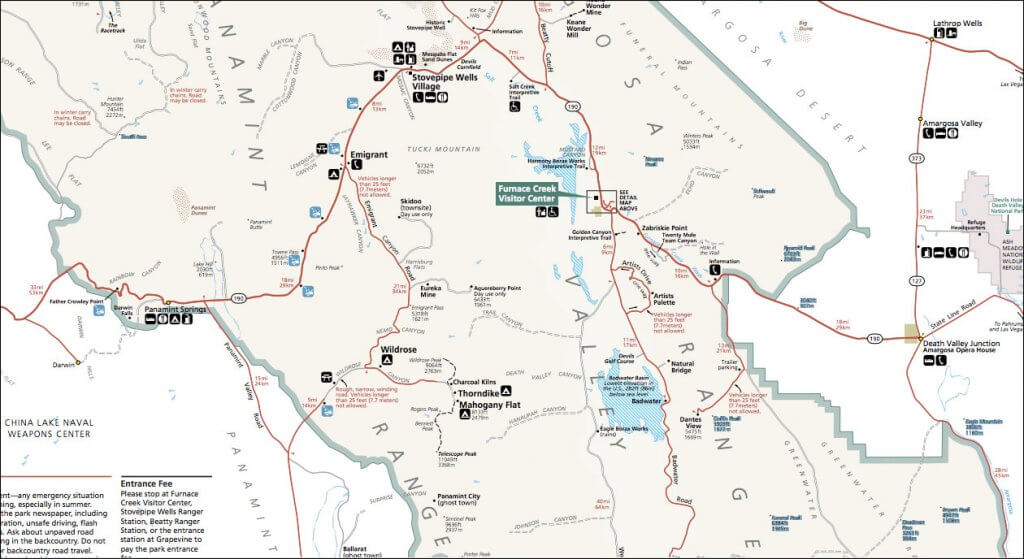 ---
---