Castle Peak Snowshoe Hike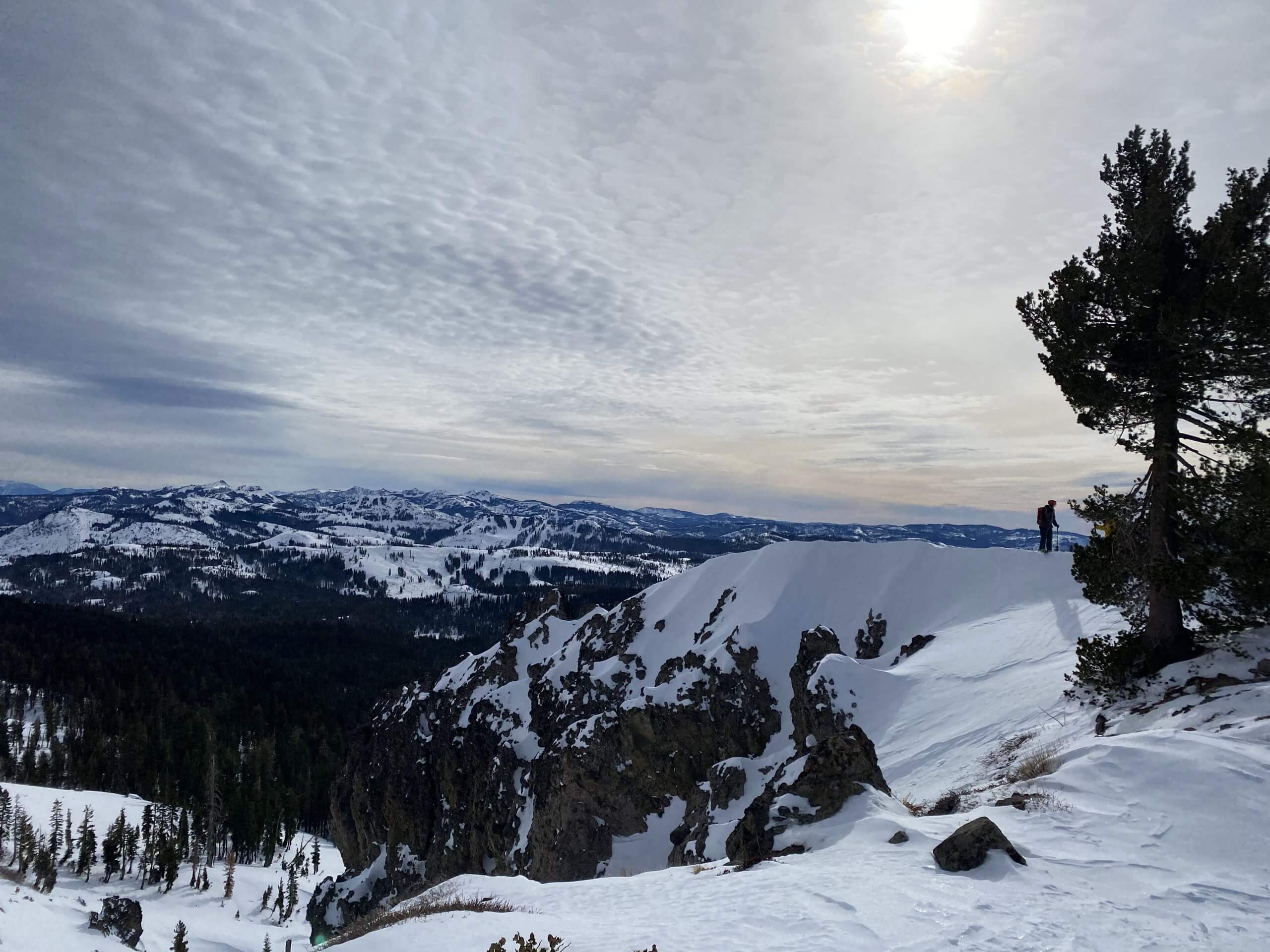 Snowshoe Hike to Castle Peak is an incredible experience! With winter here, the trail to Castle Peak is excellent for snowshoeing or cross country skiing. Today, I got to see great views of mountain peaks to the south and east. Castle Peak itself is a dramatic volcanic summit, covered with ice and snow in the winter. I tried this hike last year, and it was super steep and icy. I could not make it to the top. Well today, is a different day! I made it to the summit! It took about 3 hours to get to the top and back. The final ascent to Castle Peak is difficult. The view from Castle Peak includes most of the Tahoe peaks, Lake Tahoe, Sierra Buttes, Eureka Peak, and (on a clear day) Mount Lassen. The elevation gain to the summit is 1800 feet, from 7200 to 9000 feet.
BEFORE YOU START:
Plan your trip sensibly, keeping in mind your experience and physical condition. Remember that winter days are short and you may not be able to travel as far as you expect. Before you leave on a trip, let someone know where you're going and when you'll return. Keep track of others in your party. Always carry a map and compass and know how to use them. Unless you're an expert with map and compass, stay on trails, which are indicated by markers on trees. Consider carrying a GPS unit, if you know how to use one. Get a weather forecast (209/372-0200)—then be prepared for the unexpected. Even on short trips, carry proper gear and food for an unplanned bivouac. Always carry and drink plenty of water. If you are thirsty, you are already dehydrated.
CLOTHING AND EQUIPMENT SUGGESTIONS:
Wear wool, fleece, or polypropylene—a wool or synthetic hat is essential. These fabrics retain some warmth even when wet. Pack a waterproof jacket. Carry quick-energy food, water, waterproof matches, a flashlight, and protection from the sun.
TRAIL INFORMATION:

The trail to Castle Peak is 6.5 miles round trip. To get to the actual summit for Castle Peak would likely require snowshoes and is rated as difficult. However, the first part of the trail is a gentle uphill slope ideal for cross country skis or snowshoes. The trail initially leads to a saddle below Castle Peak. There are excellent views from the saddle. When you reach the saddle you then follow the ridge east to Castle Peak. It is this section of the trail that would be considered hard. The elevation gain to the summit is 1800 feet, from 7200 to 9000 feet.
TO GET THERE:
To get to Castle Peak take Highway 80 to Donner Summit. Exit at the Boreal Ski Resort. When you get off the freeway go to the same side of the freeway that Boreal Ski Resort is located (south side of Highway 80). When you get to the access road that runs parallel to Highway 80, take it to the left (east) towards the Boreal motel. Continue slightly past the Boreal motel. You will see signs along the access road where the SNO-PARK parking begins. The parking is along the shoulders of the access road from November 30 to May 1 each year. The shoulders are plowed during the winter for the SNO-PARK parking. You will need to get a SNO-PARK permit to park or you may be ticketed (about $87). SNO-PARK permits can be purchased for $5 for the day or $25 for the season.
---
---