8 Top Day Hikes In Hetchy Hetchy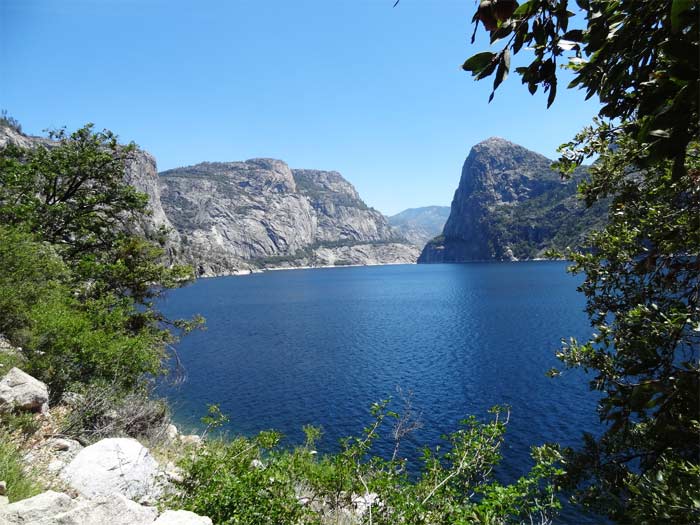 Hetch Hetchy Valley is a place I love to visit all year long. Visiting and exploring Hetch Hetchy is a special experience for me every time.  It gives me the opportunity to explore, learn more about American Indians who have lived for more than 6,000 years, and the detailed history of O'Shaughnessy Dam and Power Project.
Things I have Learned About the Place
Hetch Hetchy Valley is located in Yosemite National Park's northwest corner.  It was established by Congress in 1890. The area is renowned for its spectacular waterfalls and towering granite structures.
Hetch Hetchy Valley once looked similar to Yosemite Valley.  The valley was once one of the compelling landscapes until the great 1906 San Francisco earthquake which destroyed key portions of the City of San Francisco's water system, Congress passed the Raker Act in 1903, granting San Francisco the rights-of-way and the use of public lands to build the O'Shaughnessy Dam and Power Project.  John Muir, who wanted the valley to remain untouched for wilderness preservation, had led the opposition.  Muir died 20 years before completion, never having had to witness any changes to his valley.  He was "heartbroken" – the word almost every Muir biographer chooses.
This complex system of tunnels, pipelines, and facilities took 20 years to build and transport snowmelt 167 miles entirely by gravity, without the use of pumps.  Today the water system serves more than 2.4 million people in four counties in the San Francisco Bay Area as well as the residents of Groveland.
Every year, the Hetch Hetchy Water and Power System produces 1.7 billion kilowatt-hours of clean renewable hydropower – equivalent to the power generated from burning 39 millions gallons of oil.
Hetch Hetchy provides an abundance of recreational opportunities, concluding hiking, backpacking, cross-country skiing and bird watching.  It is a great area to spot a brown bear , rattlesnakes , wildflowers and so much more. Here are some of the trails worth checking it out. I hope it will inspire you to come and visit one of the most beautiful, little-known treasures in Yosemite.
Laurel Lake Trail is a 15.7 mile moderately trafficked out and back that features a lake and is rated as difficult. The trail is primarily used for hiking, walking, nature trips, and birding and is best used from April until October.
Lookout Point Trail begins at the entrance station. This two-mile hike involves moderate climbing and brings hikers to a rocky outcropping overlooking Hetch Hetchy.
3.  Lake Vernon and Tiltill Valley Trail
The Hetch Hetchy to Lake Vernon and Tiltill Valley Trail in Yosemite starts from the parking lot close to the O'Shaughnessy Dam at the Hetch Hetchy Reservoir and goes to Lake Vernon through the Yosemite Wilderness. Staying overnight requires a wilderness permit which can be obtained at the Hetch Hetchy Ranger Station or reserved online.  Total distance for the trip is 23 miles (11.5 miles one way) with 2,700 feet (820m) elevation gain.
Poopeanut Valley Trail begins at a signed trailhead four miles past the entrance station. This
strenuous 2.5-mile, round-trip hike to the Tuolumne River has 1,229 feet of elevation gain.  This trail is the steepest than any other trail in Hetch Hetchy.
Rancheria Falls Trail is a 12.3 mile heavily trafficked out and back trail that features a waterfall and is rated as moderate. The trail offers a number of activity options and is best used from March until October.
Smith Peak Trail begins at Hetch Hetchy Entrance Station. It is 13.5 miles (21.6km) round-trip.  It can take six to eight hours to do the hike.  This hike is great to see wildflowers, meadows and views of Hetch Hetchy .
Tueeulala Falls Trail is located on the north side of Hetch Hetchy Valley in Yosemite National Park. At roughly 880 feet it is the smaller of two large waterfalls that spill into Hetch Hetchy Reservoir.  Tueeulala, which dries to a trickle in the late summer, is approximately a thirty-minute hike from the dam after you pass through the granite tunnel to your left.
8.  Wapama Falls
Wapama Falls is the larger of two waterfalls.  It flows almost year-round and during peak flow has been known to inundate the trail bridge crossing its base, making the falls impossible to pass. The falls consist of two primary drops angled roughly 60 degrees to each other, and a broad cascade at its base. Wapama Falls is fed by Lake Vernon, a few miles to the north.  The distance to Wapama Falls is 5.5 (8.8km) round trip with an elevation gain of 200 feet (60 meters).  Hiking Time can take 2.5 to 4 hours.
---
---