A Day Hike to Phantom Ranch via South Kaibab Trail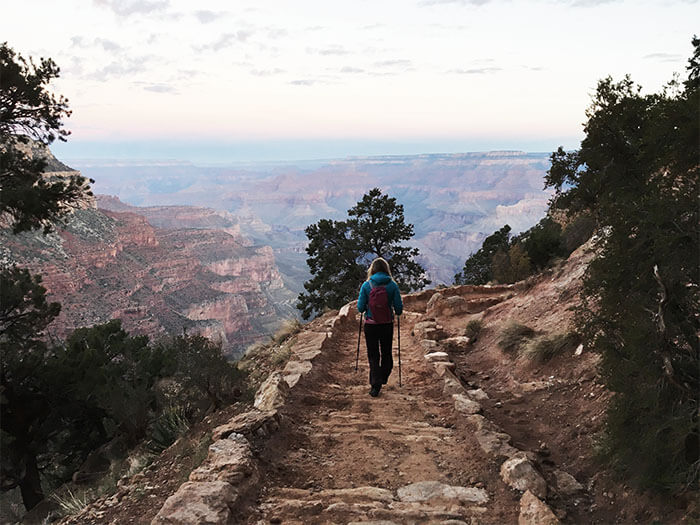 A long exhausting day hike to the bottom of Grand Canyon and back to the top of South Rim was no picnic. I started my hike at 5:00 a.m. in the morning on the South Kaibab Trail and after five hours of hiking, I reached the Phantom Ranch. After several hours of rest, I hiked back to the top of South Rim. The hike without a doubt is physically demanding and strenuous! Not to mention SUPER steep for my level of ability.
BEFORE YOU START:
Hiking South Kaibab Trail all in one day is a physically and mentally demanding experience. Ambient temperature, elevation, and exercise intensity and duration increase the physiological strain, calorie, and water demands on the body. This makes canyon hiking more difficult than traveling the same distance on level ground or in cooler temperatures. Inner canyon air is dry and hot. Drinking plenty of water and eating salty snacks on the trail are important. Sweat evaporates instantly and fluid/electrolyte loss can exceed 2 quarts per hour if you hike uphill in direct sunlight and during the hottest time of the day. Mid-level of dehydration can happen almost instantly and less efficient you become on the trail. Drinking plenty of water in advance personally helped greatly with beating any heat-related issues. Wearing my wet bandana and keeping it wet around my neck the whole time did wonders for me on the trail.
Physical conditioning is important for a safe and enjoyable trip, and with adequate conditioning, you have won half the battle. Positive mental attitude – an adaptable attitude for the changing conditions you meet on the trail is crucial to have. You can't fight the heat, the steep and rocky trails, or the interminable ascents. Having a positive attitude on the trail is a must no matter what the canyon serves up, whether it be extreme heat, heavy rains, strong winds, cold, or snow.
FACILITIES:
Water is available, along with restrooms, at the trailhead. Water is not available at any point along the South Kaibab Trail, except on the north side of the Colorado River. Treated water is only available at the Bright Angel Campground and Phantom Ranch. All water found from natural sources must be filtered, treated, or boiled prior to consuming. Bring extra water!
TRAIL INFORMATION:
The trailhead for the South Kaibab Trail is located off of the Yaki Point Road, which is closed to private vehicles. The trailhead can be accessed via either the Rim Trail or the free Grand Canyon National Park shuttle bus. From the trailhead, the trail heads north. Here is the trail map of South Kaibab Trail.
South Kaibab Trail Photo Gallery
---
---