Hiking 120 Miles of Trails in Glacier National Park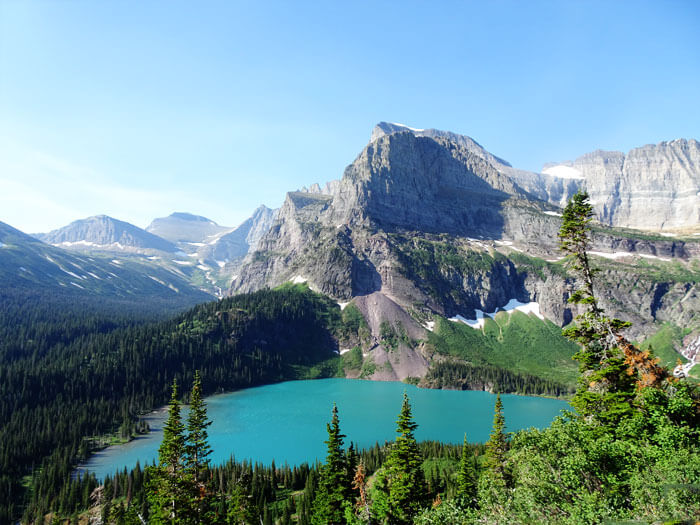 Hiking 120 Miles Solo in Glacier National Park
In the summer of 2018, I had the opportunity to work in Glacier National Park. While working a full time job, I also managed to cover 120 miles of trails alone in the grizzly territory. I have encountered grizzly bears, black brown bears, black bears, wolves, bighorn sheep, and wild mountain goats. Hiking alone in the grizzly territory taught to be fearless in every moment.
Safety measures I took are, always find someone or a group to hike with, carry a bear spray and make noise. The noise from footfalls and talking is usually enough to alert bears of approaching humans. Noise is your best friend when it comes to avoiding bears while out on the trail. Bears will usually move out of the way if they hear people approaching. Shouting out "hey bear" and clapping hands loudly every few minutes are excellent ways of making your presence known. Many hikers think they can rely on bear bells. For the most part bear bells are pretty useless. The noise generated by the bells generally doesn't carry well, and are completely useless in windy conditions, near streams, and in open terrain.
Another thing I have learned about hiking in Glacier National Park is, dealing with the high winds in Two Medicine area. The Two Medicine Valley is a secluded part of Glacier National Park. The wind frequently gusts over 60 mph near Maria Pass and Two Medicine area. Powerful blasts can be strong that they can actually knock you off the trail while hiking or even move your entire body while climbing to the top. Crawling down the trail on legs and arms to get to the bottom for some is the only option. The opposing Pacific and Arctic air meet at the Divide, creating a dramatic clash of weather and temperatures can drop 100 degrees in just 24 hours. Hiking in strong winds is not safe and it is not recommended.
A great book I can recommend to some of the great trails in Glacier is, A Falcon's Guide: Hiking Glacier and Waterton Lakes National Parks.
---
---