Glacier NP: Top Day Hikes in Two Medicine Valley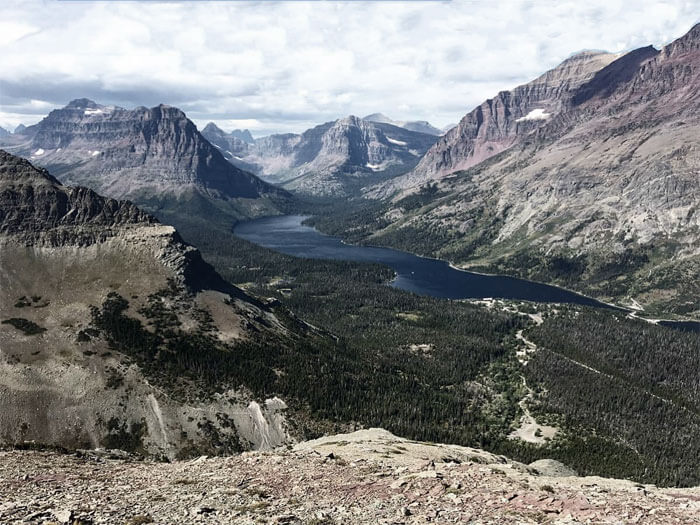 Things I have Learned About Hiking in Two Medicine Valley
The Two Medicine Valley is a secluded part of Glacier National Park. Hiking in this unspoiled area takes you past waterfalls, cliffs, caves, and waterfalls. Two Medicine Valley is rich in scenery, providing those willing to travel by foot with a truly wild experience. The east side is also well-known for its powerful blasts of wind! The wind frequently gusts over 60 mph near Maria Pass and Two Medicine area. Powerful blasts can be strong that they can actually knock you off the trail while hiking or even move your entire body while climbing to the top. Crawling down the trail on legs and arms to get to the bottom for some is the only option. The opposing Pacific and Arctic airs meet at the Divide, creating a dramatic clash of weather and temperatures can drop 100 degrees in just 24 hours. Hiking in strong winds is not safe and it is not recommended.
9 Top Day Hikes in Two Medicine Valley
1. Scenic Point (strenuous). A half-day hike from Two Medicine Road to Scenic Point is 3.8 miles one-way, or a backpack from Two Medicine Road to East Glacier is 10 miles one-way with 2300ft elevation gain. The trail climbs to the summit of the windblown dome known as Scenic Point. On a clear day, you can see out across the high plains all the way to the Sweetgrass Hills, some 100 miles distant.
2. Cobalt Lake – Two Medicine Pass (strenuous). Scenic views from the top of Two Medicine Pass blow me away! It is a hike in Glacier National Pakr, I highly recommend. A day hike or backpack from Two Medicine lower boat dock to Cobalt Lake is 5.7 miles one-way. From Cobalt Lake to the top of the pass is an additional 2 miles one-way with an elevation gain of 1,000ft.
3. Dawson-Pitamakan Pass Loop (strenuous). If you have two or three days to explore the park, I would highly recommend doing the Dawson Pass and Pitamakan Pass Loop which is 17.2 mile lightly trafficked loop and it is truly one of the best hikes to explore! The trail is only recommended for very experienced adventurers.
4. Triple Divide Pass (strenuous). Hiking to the top of Triple Divide Pass is another great experience to see the most spectacular views. Triple Divide Pass happens to be on the Continental Divide Trail, and thru-hikers are often seen on the trail. I particularly enjoyed the trail for its mesmerizing vistas and the peaks.
5. Siyeh Pass (strenuous). Siyeh Pass is a high-elevation route that traverses two passes on its way around Going-to-the-Sun Mountain. A day hike from Siyeh Bend to Siyeh Pass is 4.7 miles (7.5 km) one-way with an elevation gain of 2240 feet.
6. Piegan Pass (strenuous). Piegan Pass Links the St. Mary drainage with the popular Many Glacier areas, through a high, barren col between Cataract Mountain and Pollock Mountain. There are no campgrounds along this route, so it must be attempted as a long day hike. The trail may also be hiked from north to south; this greatly increases its difficulty due to the low starting point. From Siyeh Bend, it has an elevation gain of 1670 feet. Fantastic views of glaciers such as Blackfoot, Jackson, and Piegan glaciers are available all along the route.
7. Aster Falls. The hike to Aster Falls begins from the South Shore Trailhead at Two Medicine Lake. Just going to the trailhead is a worthwhile experience. At 1.1 miles you'll cross over Aster Creek, and in a short distance will reach the Aster Park Trail, which leads to Aster Falls and Aster Park Overlook.
8. Rockwell Falls (moderate). Rockwell Falls Trail is a 6.6 mile moderately trafficked out and back. The hike to Rockwell Falls begins from the South Shore Trailhead at Two Medicine Lake. Just going to the trailhead is a worthwhile experience. The view from the eastern shore of the lake, with Sinopah Mountain, Lone Walker Mountain and Flinsch Peak forming a picture-perfect backdrop, is one of the most beautiful scenes in Glacier National Park.
9. Running Eagle Falls ( easy). Running Eagle Falls or "Trick Falls" as they call it is a must-see in the Two Medicine Area. It's a very easy, handicap accessible trail. It is.6 miles round-trip with an elevation gain of 15 feet. The trailhead for Running Eagle Falls is located 1.1 miles west of the Two Medicine entrance station. Running Eagle Falls, also known as "Trick Falls", flows off the outlet stream between Two Medicine Lake and Lower Two Medicine Lake. The waterfall receives its nickname, "Trick Falls" because there are actually two separate waterfalls in the same location. During the spring run-off water rushes over the top ledge for a 40-foot drop, while obscuring the lower falls. However, as the volume of water decreases by late summer, and the upper falls "dries up", water continues to rush through a sinkhole at the top of the cliff before flowing out of an opening in the cliff face, thus creating the lower 20-foot falls.
Glacier National Park Map: Two Medicine Area
---
---