Top 8 Waterfall Day Hikes In Yosemite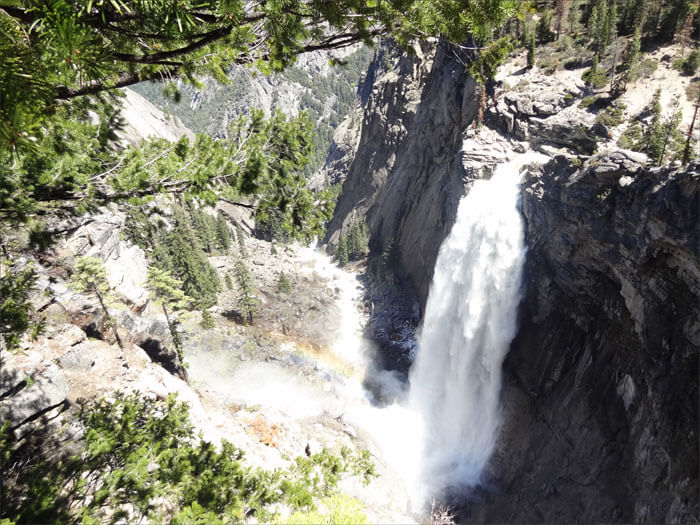 There are over 2,000 waterfalls to see in Yosemite and spring is my favorite season to check them out. Yosemite's waterfalls are truly at their best! Spring provides fair weather, fewer crowds, and for me personally, it is the best time to hit the trails.  
Things I have learned about the place:
Spring conditions in Yosemite can be dangerous if not fatal. Water level is extremely high due to melting snow coming down from Tuolumne Meadows. It can be deceiving, and approaching too closely can be dangerous. When preparing to hike in wet conditions, I get my rain gear out, wear sturdy hiking boots, and I bring poles.
List of waterfall day hikes to check it out:
Alder Creek Falls is a 100-foot cascade located in Wawona, Ca.  Alder Creek trail is 0.4 miles up Chilnualna Falls Road.  The trail can also be reached on Highway 41 Wawona road at the Mosquito Creek.  The trail begins across the street from the parking area at the "Backcountry Use" sign and leads from the parking area across the road and heads uphill north through an open pine forest with abundant manzanita growing on drier slopes.  The hike to Alder Falls is 8 miles round-trip.  Alder Creek loop is 12 miles round-trip.  The hike is strenuous, but it is worth it!
Bridalveil Fall is one of the most prominent waterfalls in the Yosemite Valley and it is seen yearly by millions of visitors each year.  The waterfall is 188 meters (617 ft) in height and flows year round. Bridalveil Fall trail is located in Yosemite Valley and it is .5 mi (0.8 km) round trip miles long.    The trail starts at the parking area, and it is the first waterfall you'll see when entering the valley.
Chilnualna Falls Trail for me is one of the best hike to explore in Wawona, Ca.  The trail is not as crowded, offers impressive cascading views of the upper , middle , lower falls and the great views of the Wawona area. Chilnualna Falls is a series of waterfalls totaling 690 feet (210 m). The trail distance is 8.2 miles (13.1 km) round-trip, and it takes about 5 hours to complete the entire hike with the elevation gain of 2,400 feet.
Illilouette Falls is a 370 feet waterfall in Yosemite National Park. It is located on the Illilouette Creek, a left tributary of the Merced River, in a small side canyon directly across from Vernal Falls. The trail is 5 miles moderately trafficked out and back from Glacier Point. The hike provides stunning views up the Tanaya Creek drainage and views of Vernal and Nevada falls along with an eagle-eyed view of Half Dome. The trail is best used from April until November.
Lower Yosemite Fall is one of the most popular attractions in Yosemite.  It is 320 feet high and it is a part of the North America's tallest waterfall which is at 2,425 feet.  The Lower Yosemite Fall loop is a leisurely walk with the most amazing news of both Upper and Lower Falls.  Lower Yosemite Fall is open all year long, but peak water flow is during spring and early summer after all the winter snow has melted.
Nevada Falls is Yosemite's landmark waterfall, accessed via the John Muir & Mist Trails, featuring a turbulent, 594-ft. drop. The distance is 5.4 mi (8.7 km) round trip (via Mist Trail) with an elevation gain of 2000ft. (610m). Level difficulty is strenuous, and it will take 5-6 hours to complete the hike.
Vernal Falls is a 317-foot waterfall on the Merced River just downstream of Nevada Fall in Yosemite National Park, California. The trail is accessed via Mist Trail. The distance from the valley floor the footbridge is 1.6 mile with an elevation gain of 400ft. The difficulty level is moderate and will take approximately 1-1.5 hours. To the top of Vernal Fall from the footbridge, it is another .5 miles with additional elevation gain of 500ft. The hike is strenuous and very wet as you get closer to the waterfalls. Rescues due happen due to slip and fall.
Upper Yosemite Fall Trail is one of my favorite trails to hike in spring and early summer. Yosemite Falls is the highest waterfall in Yosemite National Park, dropping a total of 2,425 feet from the top of the upper fall to the base of the lower fall. Upper Yosemite Falls Trail not only offers an incredible views of the high roaring waterfalls, it also offers beautiful views of the valley floor, Half Dome, Mtn. Clark and many other peaks.  Yosemite Falls Trail leads to the top of North America's tallest waterfall, which rises 2,425 feet (739 m) above the Valley floor.
To hike to the top of Yosemite Falls, the distance is 7.2 miles (11.6 km) round-trip with an elevation gain of 2,700ft. Elevation gain to Yosemite Point is 2,969 feet (890 meters). Hiking time can sometimes take 6-10 hours.
Yosemite National Park Map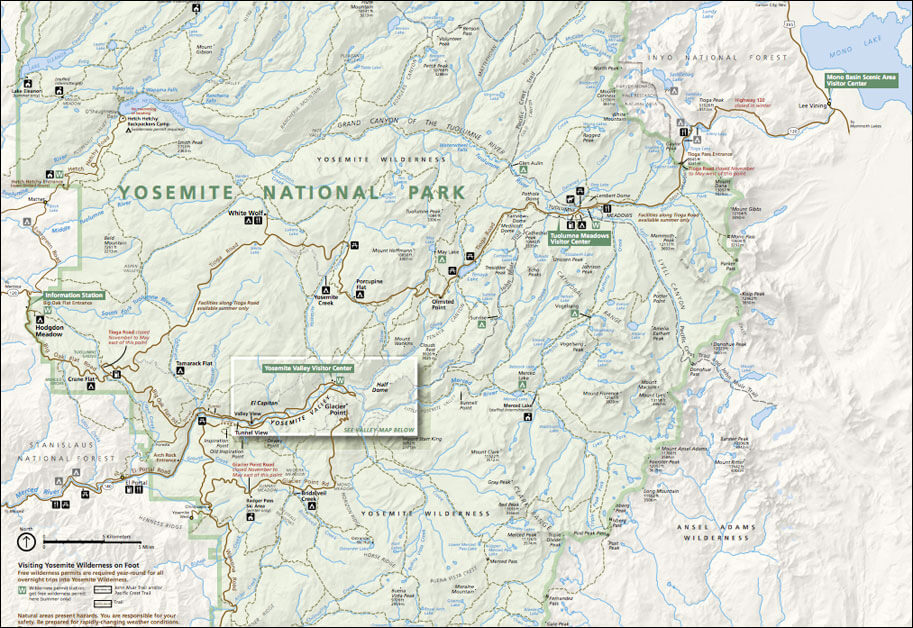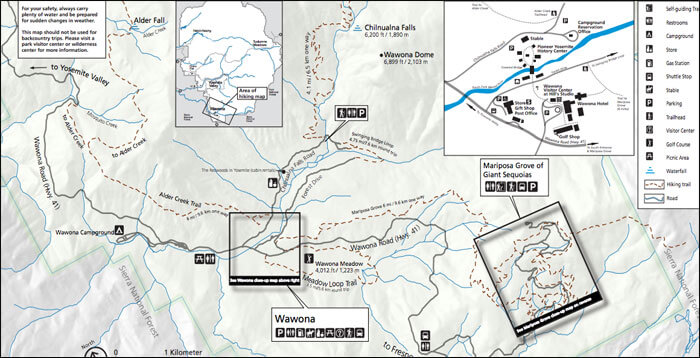 ---
---