6 Top Day Hikes for Glacier Views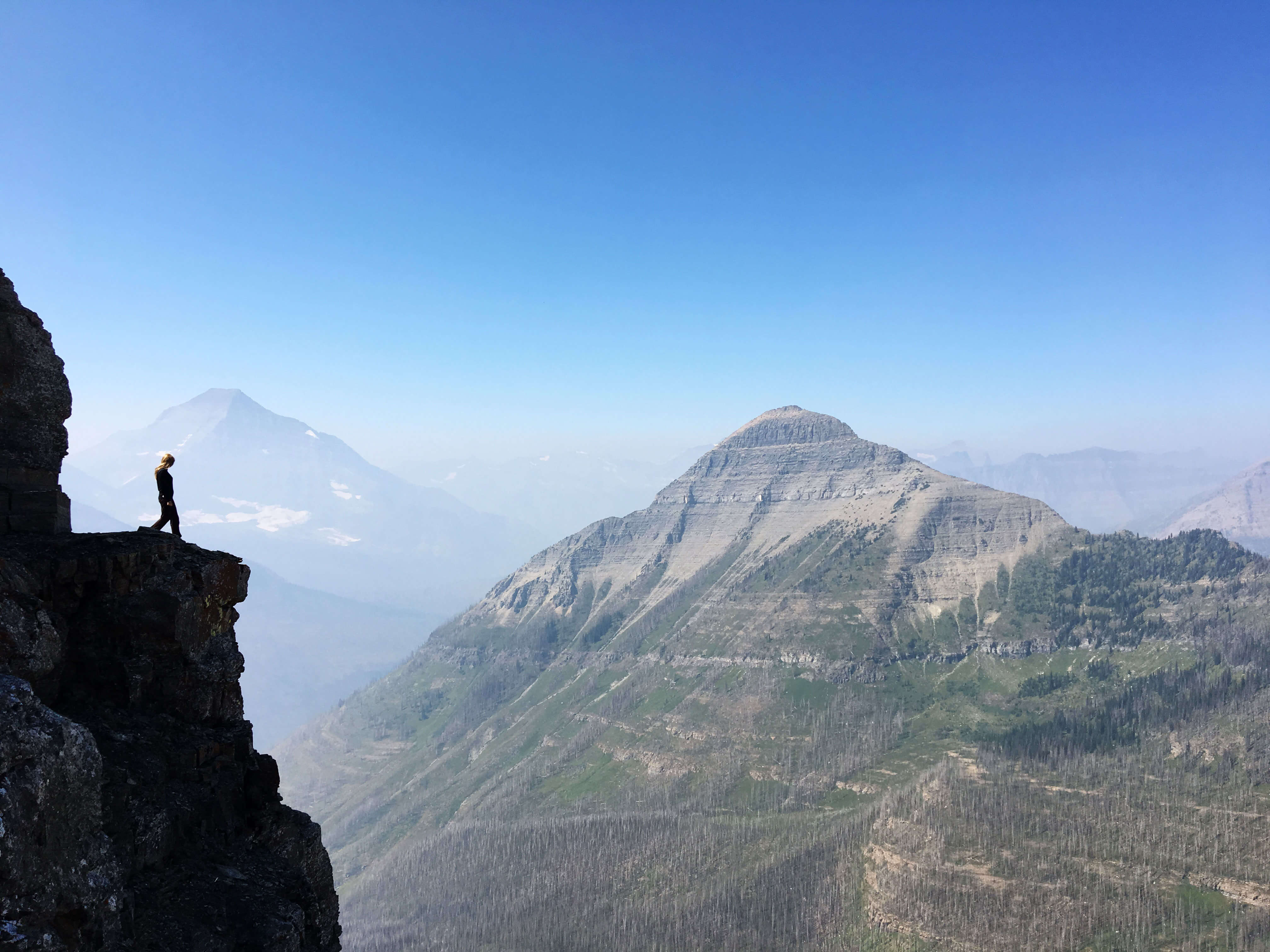 Have you ever felt sweaty, tired, or even knocked down by the wind while hiking to the top of the mountain? Many of the passes I hike in Glacier National Park, I experience just that. Glacier straddles the Continental Divide, allowing for extreme weather. That's because the opposing Pacific and Arctic airs meet at the Divide, creating a dramatic clash of weather. Mountain passes on the east side of the park can be hard to climb. Temperatures can drop 100 degrees in just 24 hours.
Things I have Learned About The Place:
The east side of Glacier National Park has the most scenic, best trails for Glacier views, but it is well-known for its powerful blasts of wind! The wind frequently gusts over 60 mph near Maria Pass and Two Medicine area. Powerful blasts can be strong that they can actually knock you off the trail while hiking or even move your entire body while climbing to the top. Crawling down the trail on legs and arms to get to the bottom for some is the only option.
My personal advise if you get stuck hiking in strong winds, is begin to look for an area that is sheltered and is out of the wind. Give it a while, maybe be it will stop.  Also, turn around and head home if the it does not abate in within your time frame.  If it is blowing really hard, consider driving over Logan Pass or Maria Pass and do some fun hikes on the west side of the park.  Do not attempt to summit any mountain passes, especially the Two Medicine Pass. Two Medicine Pass is the worst of all passes to hike in the strong winds.
List of Hikes to Check It Out:
1. Scenic Point (strenuous)
A half-day hike from Two Medicine Road to Scenic Point is 3.8 miles one-way; or a backpack from Two Medicine Road to East Glacier is 10 miles one-way with 2300ft elevation gain. The trail climbs to the summit of the windblown dome known as Scenic Point. On a clear day you can see out across the high plains all the way to the Sweetgrass Hills, some 100 miles distant.
2. Cobalt Lake – Two Medicine Pass (strenuous)
Scenic views from the top of Two Medicine Pass blow me away!  A day hike or backpack from Two Medicine lower boat dock to Cobalt Lake is 5.7 miles one-way.  From Cobalt Lake to the top of the pass is additional 2 miles one-way with an elevation gain of 1,000ft.
3. Dawson-Pitamakan Pass Loop (strenuous)
Dawson Pass and Pitamakan Pass Loop is a 17.2 mile lightly trafficked loop trail located near East Glacier Park Village, Montana that features a lake. The trail is only recommended for very experienced adventurers.
4. Triple Divide Pass (strenuous)
Hiking to the top of Triple Divide Pass is another great experience to see the most spectacular views.  Triple Divide Pass happens to be on the Continental Divide Trail, and thru-hikers are often seen on the trail.  I particularly enjoyed the trail for its mesmerizing vistas and the peaks.
5. Siyeh Pass (strenuous)
Siyeh Pass is a high-elevation route that traverses two passes on its way around Going-to-the Sun Mountain. A day hike from Siyeh Bend to Siyeh Pass is 4.7 miles (7.5 km) one-way with an elevation gain of 2240 feet.
6. Piegan Pass (strenuous)
Piegan Pass Links the St. Mary drainage with the popular Many Glacier area, through a high, barren col between Cataract Mountain and Pullock Mountain. There are no campgrounds along this route, so it must be attempted as a long day hike. The trail may also be hiked from north to south; this greatly increases its difficulty due to the low starting point. From Siyeh Bend, it has an elevation gain of 1670 feet. Fantastic views of glaciers such as Blackfoot, Jackson and Piegan glaciers are available all along the route.
---
---