5 Top Day Hikes Along Tioga Pass Road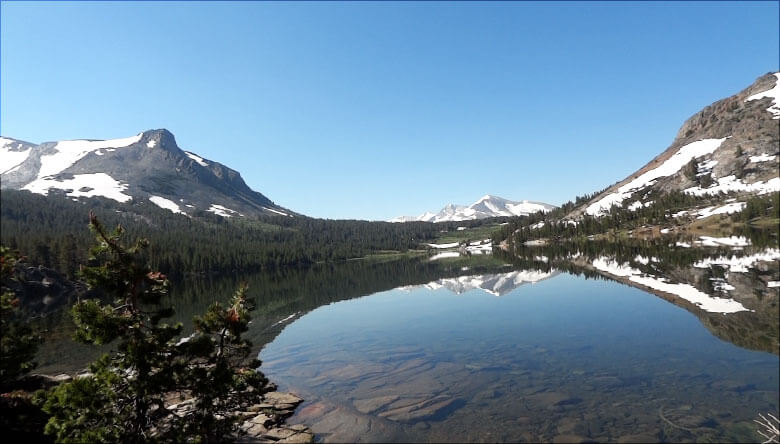 Things I have Learned About Hiking Along Tioga Pass
Tioga Pass (el. 9,943 ft. / 3,031 m.) is a mountain pass in the Sierra Nevada mountains of California. State Route 120 runs through it, and serves as the eastern entry point for Yosemite National Park, at the Tioga Pass Entrance Station. It is the highest highway pass in California and in the Sierra Nevada. The pass is subject to winter closure, due to high snowfall, normally from around the end of October until the end of May the following year, though these dates are subject to considerable variation. Day hikes and overnight trips are abundant along the Tioga Road, each with a scenic reward of its own. Trips available from the stretch of the Tioga Road range from relatively level forested hikes to Yosemite Valley's north rim to trails plummeting deep into Yosemite's northernmost canyons. Here is a list some of the day hikes I can never get enough of. The trails are awesome and are worth checking it out. For additional list of day hikes, here is a link to the
NPS
website.
1. Clouds Rest
[video_lightbox_youtube video_id="3kdjBLqjP_0?rel=0″ frameborder="0″ width="640″ height="480″ anchor="Clouds Rest"] is a mountain in Yosemite National Park east-northeast of Yosemite Village, California. Although there are many peaks in the park having far greater elevation, Clouds Rest's proximity to the valley gives it a very high degree of visual prominence. Clouds Rest is an arête, a thin, almost knife-like, ridge of rock formed when glaciers eroded away solid rock to form Tenaya Canyon and Little Yosemite Valley. The northwest face, mostly solid granite, rises 5,000 feet (1,520 m) above Tenaya Creek.
The summit can be reached by a 7.2-mile (11.6 km) trail hike from Tioga Pass Road or a 9.4-mile (15.1 km) trail hike from Happy Isles by way of Little Yosemite Valley.
2. May Lake to Mt. Hoffman
[video_lightbox_youtube video_id="TFUQCsjAL3I?rel=0″ frameborder="0″ width="640″ height="480″ anchor="May Lake to Mtn. Hoffman"] Trail is a hike I highly recommend. The trail to Mount Hoffman is completely unmarked, but well-enough traveled to be fairly easy to follow when the ground is snow-free. To find the trail from May Lake High Sierra Camp simply follow the path next to May Lake as it wraps around the southern edge of the lake, just beyond the backpacker camp sites.
The overall trip to the top of Hoffman is less than 2 miles from May Lake, but it is a grueling 1,500+ foot climb. As you are approaching the rock scramble to the peak with it's large radio tower on top there are two distinct routes. One veers to the left and up some loose scree appearing and disappearing from view as you go (there are parts where there's no obvious route, you should just pick what you are comfortable with). The alternate route if you follow the rightmost path heads up a steeper, boulder route with less scree near a cliff edge. If you are comfortable hoisting yourself up some big boulders and not too fearful of drop-offs a few feet away, this rightmost route may be preferred, but otherwise, the leftmost route is the way to go. The view is worth the struggle. You'll feel like you are on top of the world as you peer down on Half Dome a couple thousand feet beneath you.
3. North Dome and Indian Rock
[video_lightbox_youtube video_id="vfZdmruXeng?rel=0″ frameborder="0″ width="640″ height="480″ anchor="North Dome"] Trail via Tioga Road is a 9.3 mile lightly trafficked out and back located near Mariposa, California that features beautiful wild flowers and is rated as difficult. Access in the winter can be obtained by hiking up Snow Creek Trail and then to Indian Rock. Indian Rock is an easy trail and can be accessed from Porcupine Creek trailhead. This is a great hike right off the Tioga Road in Yosemite that takes you through some great meadows, past a rare granite arch called [video_lightbox_youtube video_id="EBM5-LMHpPc?rel=0″ frameborder="0″ width="640″ height="480″ anchor="Indian Arch"] and onto the granite of North Dome.
4. Mtn. Dana
[video_lightbox_youtube video_id="7qHa1PYlCYo?rel=0″ frameborder="0″ width="640″ height="480″ anchor="Mtn. Dana"] is the second highest mountain in Yosemite (after Mount Lyell), reaching 13,061 feet tall. The 5 mile out and back hike without a doubt is strenuous and has an elevation gain of 3,000ft. Park your car at the Tioga Pass East Entrance where the trailhead is. There is no sign for this trailhead, but it is close to the parking area. When you reach the top, views of Mono Lake, Dana Plateau, Dana Glacier, and Dana Lakes are stunning!
5. Olmstead Point
[video_lightbox_youtube video_id="vu6c_AhPxOc?rel=0″ frameborder="0″ width="640″ height="480″ anchor="Olmstead Point"] is only 0.25 miles (0.4km) round-trip with an elevation gain of 100 feet (30 meters). It only takes about 15-30 minutes to complete the entire hike. The is awesome for striking glacial erratic boulders lounging on the hillsides. High for the amount of hiking involved. Looking west, you'll see a closeup view of Clouds Rest, with Half Dome beyond. Looking east, you'll see Tenaya Lake and the granite domes that envelop it. And the Olmsted Point parking lot itself is an interesting stop, with its surrounding slopes dotted with glacial erratics.
---
---
0 comments
Leave a comment