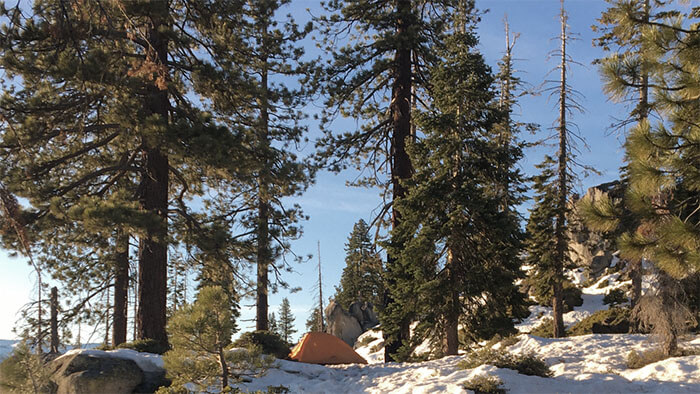 I survived my first solo snow-camping trip in Yosemite. I spent three days and three nights in the wilderness. I cross-country skied to Glacier Point which is about 10 miles one-way from Badger Pass Ski Area. I spent my three nights camping at Washburn Point in Yosemite. Getting to Washburn Point from Badger Pass is somewhat exhausting. A lot of the snow has melted on Glacier Point road, so I skied on ice, walked on dirt, and had to take my skis more than once to walk the Glacier Point road. Arriving at Washburn Point was a relief. The night temperature was in low 20 degrees Farenheight. No wind, clear skies. Watching the sun settling down and waking up to a beautiful sunrise, the next morning is the best experience I can ever ask for. Here are the things I took with me on my first snow-camping trip.
Snow-camping Essentials:
1 sleeping bag
1 Down Jacket
1 Down Pants
1 Hat
1. Sunscreen
1 Sunglasses
1 JetBoil Flash Cooking System
1 Three-season tent
1 Bear canister. (After talking to a park ranger, bear canisters are not needed if you are on skis. If you are on snowshoes, or walking, it is recommended you take one.)
1 Nalgene Water Bottle, snacks, food.
1 Photo Camera
1 Snow shovel (Not needed, since a lot of the snow did melt in the area where I was camping.)
1 Map
1 Overnight permit. (Self-registration box is located outside the "A" Frame at Badget Pass Ski Area)
1. Down Booties
Badger Pass – Snowshoeing and Cross-country Skiing Map
---
---