Glacier NP: 7 Top Day Hikes In Many Glacier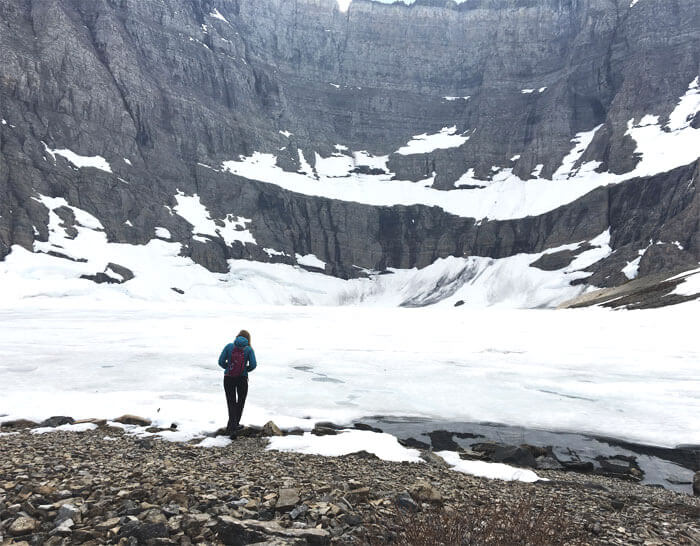 Things I've Learned About Hiking Solo in Many Glacier
Hiking solo in the grizzly territory is a risk I took while exploring more than 100 miles of trails in the summer of 2018. Safety measures I took are, always find someone or a group to hike with, carry a bear spray and make noise. The noise from footfalls and talking is usually enough to alert bears of approaching humans. Noise is your best friend when it comes to avoiding bears while out on the trail. Bears will usually move out of the way if they hear people approaching. Shouting out "hey bear" and clapping hands loudly every few minutes are excellent ways of making your presence known. Many hikers think they can rely on bear bells. For the most part bear bells are pretty useless. The noise generated by the bells generally doesn't carry well, and are completely useless in windy conditions, near streams, and in open terrain. Trails in Glacier National Park are packed with many great scenic vistas. Trails lead quickly up into the high country, and not much old-growth forest obliterates the views. The area is home to many kinds of wildlife. Most prominent is the majestic grizzly bear, which is frequently seen foraging for bulbs and berries on the open slopes of the surrounding mountains. Mountain goats cavort on the sky rocky ledges of sheer cliffs, and groups of bighorn sheep ewes with their young are sometimes seen near Many Glacier Hotel.
With scenic views, this 215-room mountain chalet on Swiftcurrent Lake in Glacier National Park dates from 1915. Simple rooms have a rustic vibe with and feature coffeemakers. All rooms have private bathrooms. There are no TVs or air-conditioning. Suites with separate sitting areas are also available. "Many," as the structure is affectionately known, was for decades the largest hotel in Montana. It has some 240 guest rooms in its Main and Annex wings. It is built in the style of a Swiss chalet, with overhanging roofs and balconies. It is painted a rich, deep brown, with white and gold trim. The Cross of Helvetia, white on a scarlet shield, is Many's coat of arms, and hangs on the door of every room.
7 Top Day Hikes To Check It Out
1. Apikuni Falls Trail begins from the Poia Lake Trailhead, located 2.8 miles west of the Many Glacier entrance. Although it's a fairly popular hike, there's limited parking for only 12 cars or so. From the side of the road, the trail starts off in an open field known as Apikuni Flat. Although you can't actually see the falls from the trailhead, you can see the general location of your destination. Look for the notch between Atlyn Peak and Apikuni Mountain, the two mountains almost directly in front of you. Although it's a short hike, the vantage point from the trailhead reveals a relatively steep climb. Roughly 0.2 miles from the trailhead you'll reach a young aspen grove. Just beyond this grove, the trail begins a steep ascent through pine forest and several thimbleberry patches. Hikers will climb almost 500 feet in less than a half mile. Along the way, you'll notice several short side trails leading to vantage points that provide good views of the surrounding mountains, as well as Cracker Flats in the valley below.
2. Cracker Lake is 12 miles out and back and a popular day hike destination for travelers in Many Glacier area with an elevation gain of 1,120 feet. The trail winds from the shore of SWiftcurrent Lake up a forested ridgeline to a wide, meadowy basin filled with wildflowers and butterflies. Cracker Lake is a cold body of water made turquoise by light refraction through its load of suspended glacial silt. Ath the head of the lake, the old Cracker Mine lies beneath the towering cliff walls of Mount Siyeh. There is also a small campground near the head of the lake for backpackers. This trail receives horse traffic, so you should be prepared to yield to saddle stock when meeting on the trail.
3. The Grinnell Glacier is a hike you don't want to miss in Glacier NP. The trail is 7.8 miles round-trip from the Grinnell trailhead parking area with an elevation gain of 1840 feet. The trail is packed with outstanding views, waterfalls, alpine lakes, and meadows. Hiking every step to the top is well worth it. Jumping in the Upper Grinnell lake with other hikers is even more exciting after a long hot day on the trail!
4. Iceberg Lake Trail in Glacier NP is 9.3 mile out and back and is one of my favorite hikes in Glacie NP. It is packed with rich scenery! The stunning destination, as well as the brilliant wildflowers along the route make the Iceberg Lake Trail one of the popular hikes in the park. Iceberg Lake is a striking aquamarine tarn surrounded on three sides by towering cliffs. Ice-out may not occur until mid-July and bergs for which the lake was names may be seen floating about well after that date. The trail crosses wild animal habitat including grizzly bears, bighorn sheep, and wild mountain goats. I was lucky to get a close view of bighorn sheep. Bighorn sheep inhabit about 3.7 million acres in Montana.
5.Ptarmigan Tunnel Trail is 10.7 miles round-trip in Glacier NP with an elevation gain of 2300 feet. The hike to Ptarmigan Tunnel begins behind the cabins near the Swiftcurrent Motor Inn. The first segment of the hike passes through open terrain that offers grand views of the surrounding mountains. However, as you proceed further along, the trail enters a fairly dense section of pine forest, roughly 1.5 miles from the trailhead. At 2.5 miles hikers will reach a small clearing overlooking Ptarmigan Falls. Unfortunately, this is the best view of the falls you'll have, as steep terrain makes it virtually impossible to get a closer look. Moreover, tree cover blocks a full view of the falls from top to bottom. Roughly 4.2 miles from the trailhead you'll reach a series of waterfalls and cascades tumbling down Ptarmigan Creek in the valley below the trail. Just beyond this point is Ptarmigan Lake. Although the main trail continues above the shore, there's a short side trail that drops down to the foot of the lake. Bighorn sheep and mountain goats are frequently seen in this area. From here you can see the final segment of the trail as it climbs two major switchbacks towards the tunnel. Some might find this climb a little daunting. Above the lake, the trail gains roughly 500 feet in less than two-thirds of a mile. However, the spectacular views that await you from both sides of the tunnel should provide enough motivation to push you onward.
6. Poia Lake – Red Gap Pass Trail climbs through a mostly lodgepole pine forest before descending into Kennedy Creek basin. There, the trail is more open, crossing ridges of subalpine plants, spruce and fir trees, and cream-colored boulders of billion-year-old Altyn Limestone. Poia Lake itself was quarried by an Ice Age glacier, but is dammed by an erosion resistant ridge of Altyn Limestone at the foot of the lake. The trail continues up and over Red Gap Pass and down into the Belly River drainage. A long day or backpack from Many Glacier to Poia Lake is 6.4 (10.5km) one-way.
7. Swiftcurrent Pass is another stunning hike that is popular among many locals and visitors alike in Glacier NP is Swiftcurrent Pass. A long day hike from Swiftcurrent Inn to Swiftcurrent Pass is 6.6 miles (one-way). From Swiftcurrent Inn to Granite Park Chalet is 7.6 miles one-way. The Swiftcurrent Pass Trail follows the Swiftcurrent Valley past a chain of lakes to a steep ascent of the Continental Divide. This ascent to the pass is quite strenuous with 2,225 feet elevation gain. The trail is much easier if taken from other trails such as Highline Trail from Logan Pass. From Logan Pass, visitor parking area to Granite Park Chalet is 4.9 miles one-way. From Granite Park Chalet to the Swiftcurrent Pass is only 1 mile one-way. Hiking to the top of Swiftcurrent Pass is well worth the trip. I personally enjoyed it! Seeing Swiftcurrent Glacier is definitely worth it! On the way back, many visitors take the loop trail to get to the shuttle which takes them back to the Logan Pass Visitor Center. Highline follows along the Continental Divide, also known as the Garden Wall in this area. The exceptionally beautiful views, the excellent opportunities for spotting wildlife, and the wildflowers, all combine to make this a hike you'll remember the rest of your life.
Many Glacier Valley Trails Map
---
---