JMT – Permits, Maps and Resupply Information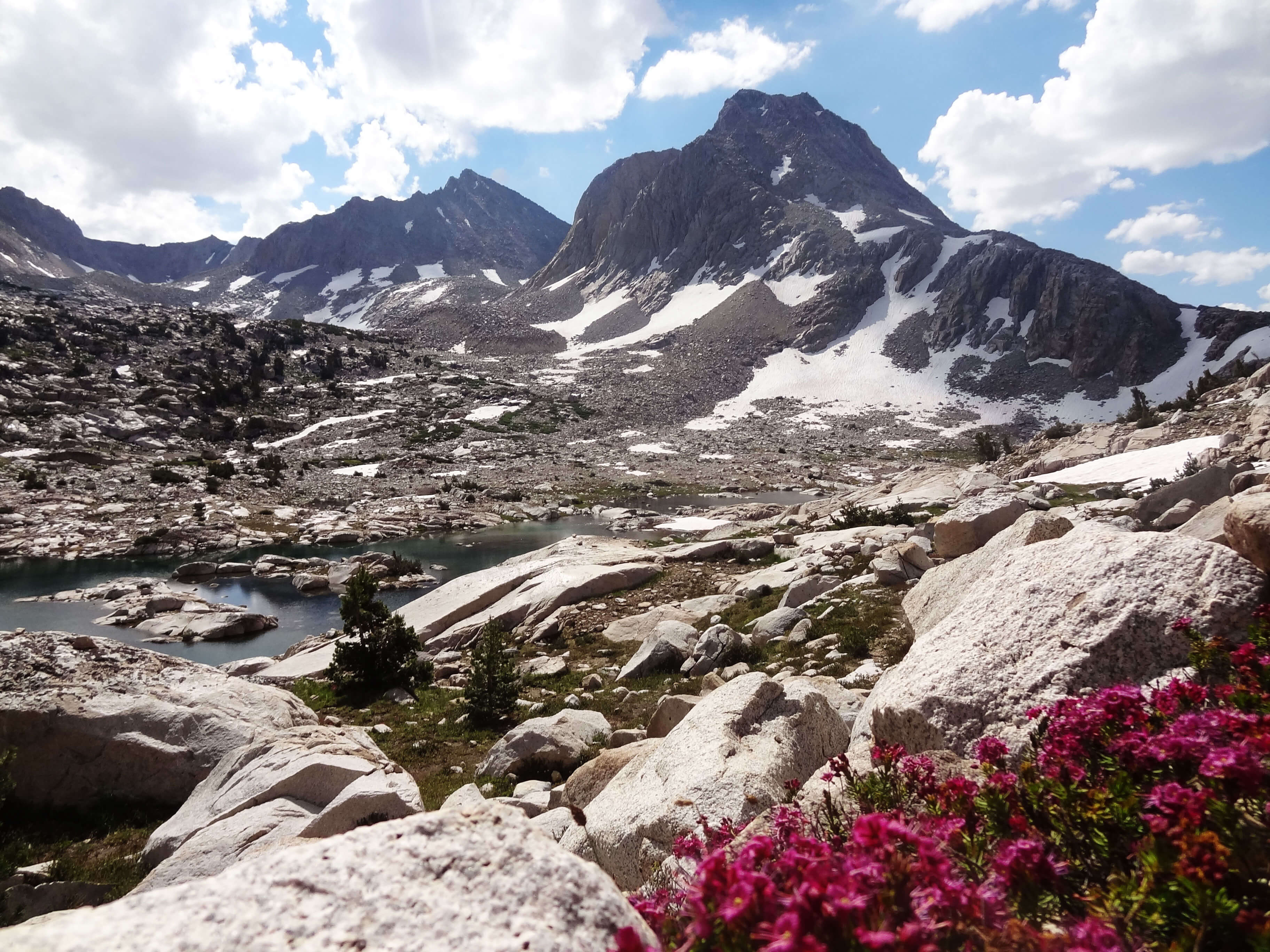 PERMITS
All overnight use of trails that access the John Muir Trail (JMT) requires a
permit
and are under a quota system to protect the environment and prevent overcrowding. Trail permits go quickly so definitely plan ahead. There are multiple agencies that manage access to the JMT-Yosemite National Park, Inyo National Forest, Sierra National Forest, Sequoia National Park and Kings Canyon National Park. Permits are issued for the trailhead and date at which you begin your hike. You will need to contact the appropriate agency to obtain a permit. If you plan to hike the JMT as a continuous hike, you only need one wilderness permit for the entire trip and do not need to obtain a new permit when exiting the trail for less than 24 hours to resupply or when entering a new jurisdiction. Special regulations apply within the Mount Whitney Zone at the trail's southern terminus.
HAPPY ISLES (NORTHERN TERMINUS ACCESS)
While most people begin hiking the JMT at Happy Isles in Yosemite Valley, many people begin at Lyell Canyon in Tuolumne Meadows because permits for this trailhead are slightly easier to obtain. I highly recommend this option. It worked beautifully for me. I had no problem last July walking in and getting a permit on the walk-in basis. Hikers departing from Happy Isles will need a permit for either "Little Yosemite Valley or "Little Yosemite Valley pass-through". An additional permit is required for hikers wanting to summit Half Dome in Yosemite National Park. Half Dome permits can be requested on the wilderness permit application and are valid for the same dates as the wilderness permit.
WHITNEY PORTAL (SOUTHERN TERMINUS ACCESS)
Obtaining a permit to access the JMT via the Mount Whitney Trail can be difficult. These permits are in extreme demand so they are issued using a lottery system. Applications to enter the lottery are accepted online at www.recreation.gov from February 1 through March 15. After lottery is complete any remaining spaces are made available starting April and can be reserved at
www.recreation.gov
or by calling (877)-444-6777. Mt. Whitney permits must be picked up at the
Eastern Sierra Interagency Visitor Center
, located two miles south of Lone Pine at the junction of US Hwy 395 and SR 136. Only the leader or listed alternate leader can pick up or use the permit. All unused reservation space is available for walk-in permits on the day of or one day before entry. Walk-in permits are only issued to visitors in person. Hikers exiting the JMT via the Mt. Whitney trail (Trail Crest to Whitney Portal) are subject to an exit quota that will apply to the date you reach the Portal. These dates fill quickly. When obtaining a permit, reserve the permit type "Exit Mt. Whitney". This allows hikers to approach the Mt. Whitney Zone from Crabtree Meadows, climb the summit, and exit down the Mt. Whitney Trail to Whitney Portal.
SHUTTLES
Two cars can be used to shuttle between the two terminal of the JMT or public transport can be used.
Easter Sierra Transit
and
YARTS
can be combined to shuttle between US 395 and Yosemite Valley.
PERMIT OFFICES
Yosemite National Park
Permits available by phone, mail, or online. Reservation requirements are up to 168 days in advance. 60% of permits are available for reservation. Entry locations are Happy Isles (Northern Terminus), Tuolumne Meadows-Cathedral Lakes, Tuolumne Meadows Lyell Canyon.
Phone: 372-0740(Reservation Only)
Web: www.nps.gov.yose/planyourvisit/wildpermits.htm
Inyo National Forest
Permits available by phone, mail, or online. Reservation requirements are up to 6 months in advance. 60% percent of permits are available for reservation. Entry locations are Rush Creek, Shadow Lake Trail to Agnew Meadows, Devil's Postpile, Reds Meadow Resort, Upper Crater Meadow/Red Cones, Duck Lake, Mcgee Creek,Mono Pass, Pine Creek & Piute Pass Trail, Bishop Pass, Taboose Pass, Sawmill Pass, Baster Pass, Kearsarge Pass, Shepherd Pass, Cottonwood Pass.
Phone: 209-873-2483
Web:www.fs.usda.gov/main/inyo/passes-permits/recreation
Sierra National Forest
Permits available by mail only. Reservation requirements are up to one year in advance. 60% percent of permits are available for reservation. Entry locations are Mono Creek, Bear Ridge, Bear Diversion, Florence Lake.
Phone: (559)297-0706
Web: www.fs.usda.gov/main/sierra/passes-permits
Sequoia and Kings Canyon National Parks
Permits available by mail or fax. Reservation Requirements are March 1st. 75% percent of permits are available for reservation. Entry locations are: Woods Creek, Bubbs Creek.
Phone: 559-565-3766(Information Only)
Fax: (559)565-4239
Web: www.nps.gov/seki/planyourvisit/wilderness_permits.htm
Eastern Sierra Interagency Visitor Center
U.S. 395, Lone Pine, Ca 93545
Phone: 760-876-6222
Web: www.fs.usda.gov/recarea/inyo/recarea/?recid=20698
MAPS AND GPS Apps
There are many great maps and apps to use on the JMT Trail.
John Muir Trail Topographic Map Guide
was what I used on the trail. It is very detailed and has great camping locations. I also use
Gaia GPS
and
Guthook Trail Guide Apps.
They are very popular among JMT/PCT hikers.
RESUPPLY INFORMATION
There are several popular locations along the JMT where hikers can stock up on supplies and retrieve resupply packages, including Tuolumne Meadows, Mammoth Lakes Post Office, Red's Meadow Resort, Vermillion Valley Resort, and Muir Trail Ranch. There are no resupply options south of Muir Trail Ranch, however, some hikers choose to exit the wilderness over Kearsarge Pass to the Onion Valley Trailhead. From there, a shuttle can be arranged to the town of Independence, CA. All non-post office resupply locations charge a fee for receiving and holding packages. Many of these locations are remote so allow ample time for packages to arrive. Park ranger stations cannot hold resupply packages, and caching food is illegal along the JMT. Specific rules apply to packages, check before shipping.
Several Companies do provide pack resupply on the JMT, which be especially useful south of Muir Trail Ranch. This will need to be arranged before your departure through a hired resupply service.
RESUPPLY LOCATION and CONTACT INFORMATION
Tuolumne Meadows Post Office and Store
General Delivery
Tuolumne Meadows
Yosemite National Park, Ca. 95389
June Lake Post Office
General Delivery
2747 Boulder Dr.
June Lake, Ca. 93523
Mammoth Lakes Post Office
General Delivery
3330 Main St.
Mammoth Lakes, Ca. 93546
Red's Meadow Resort & Pack Station
Phone: 760-934-2345
Accepts shipped packages (fee)
www.redsmeadow.com/resort/backpackers
Vermillion Valley Resort
Phone: (559)259-4000
Accepts shipped packages (fee)
www.edisonlake.com/hikers/resupply
Mono Hot Springs
Phone: (559)325-1710
General Delivery
Mono Hot Springs Resort
Mono Hot Springs, California. 93642
www.monohotsprings.com/post-office
Muir Trail Ranch
Phone: (209)966-3195
Accepts shipped packages (fee)
www.muirtrailranch.com/resupply.html</>
---
---