Bryce NP: Top 4 Day Hikes To Explore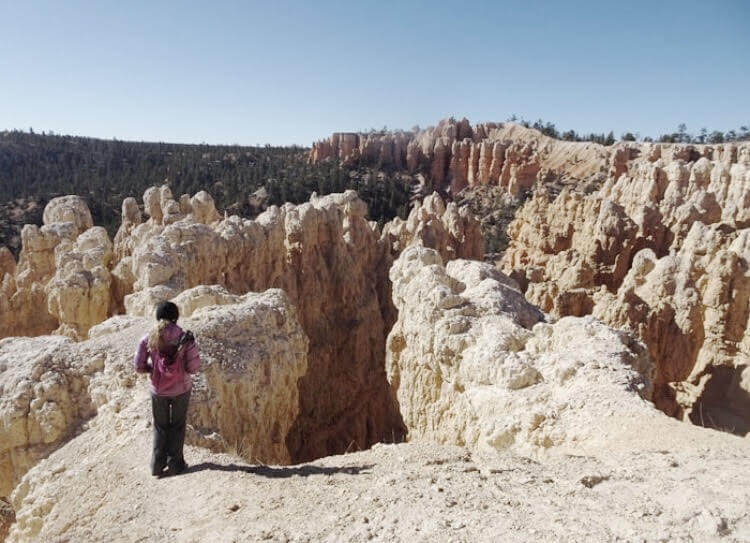 Every time I visit Bryce Canyon National Park, I am in awe by the spectacular geological formations and brilliant colors. Bryce Canyon is not so much a canyon as it is a series of amphitheaters created by erosional forces of the Paris River system along the edge of the Paunsaugunt plateau. As the streams traveled eastward over the edge and down the slope of the plateau, its waters gained velocity and began to carry any bits of the Claron Formation. As this process continued, gullies cut deeply into the plateau, exposing layers of rock. These gully walls then became vulnerable to other forms of erosion, primarily through trickling water and the freeze-thaw cycle. During warm seasons, water trickles down the gully walls, slowly dissolving the carbonates that bind the sedimentary rock together. Sediment layers containing rich deposits of lime, carbonates, and dolomite are more resistant to this erosion than lime-poor layers of siltstone and clay. In many instances more resistant layers overlie, or cap, less resistant layers. The caprice then protects the underlying layers from further erosion, resulting in the spectacular hoodoos and spires that tower above the canyon floor.
As a curious hiker, I love taking advantage of the park's trails to experience Bryce Canyon on a more intimate level. What I personally love about hiking in Bryce is that many of the trails intersect each other and can be connected to form loops. For instance, the Navajo Loop, Peekaboo Loop, and Queen's Garden trails can be combined with short excursions along connecting trails. Here are some of my favorite trails to explore.
Top 4 Day Hikes To Explore In Bryce
Fairyland Loop Trail (moderate) is 8 miles roundtrip that loops through Fairyland Canyon. The trail can be accessed easily from a trailhead at Fairyland Point or from Sunrise Point via a short jaunt north along the Rim Trail.
Rim Trail (moderate) is a popular trail above Bryce canyon that connects all the scenic overlooks from Fairyland Point to Bryce Point.The trail is accessible from the park road at various lookout points and provides spectacular of the spires and canyons below. It is 5.5 one-way.
Queen's Garden Complex trail is a short trail descending below the canyon rim and drops about 320 feet below the canyon rim. It is .9 miles one way. Interesting rock formations along this popular path include Gulliver's Castle, and the Queen's Castle,
Navajo Loop Trail is a moderate hike along the Navajo Trail starts at Sunset Point and descends to Bryce Amphitheater as one of the most popular day hikes in Bryce Canyon National Park. Once you get to the canyon below, look up to see towering hoodoos and Douglas fir trees clinging to life as they reach towards the sun overhead. Combine this 1.3-mile hike with the Queen's Garden trail for a longer hike, if you wish. Watch out for loose rocks on the Navajo Loop Trail.
Peek-A-Boo Loop Trail is a 5.5-mile round-trip. This is a strenuous day hike because you start at the Bryce Point trailhead and go quickly down into the canyon. As you walk along the canyon floor, hike through the heart of Bryce Amphitheater and see the Wall of Windows, a natural rock formation that has what appears to be circular or rectangular windows in the rocks. In the main amphitheater, sunlight plays off of the rocks as the occasional bird may flitter among them. Be aware of mule riders on this trail and give them the right of way. After this day-long hike, retreat to one of the nearby vacation rentals to rest, relax and eat a hearty dinner.
---
---