3 Top Winter Activities You Must Do In Yosemite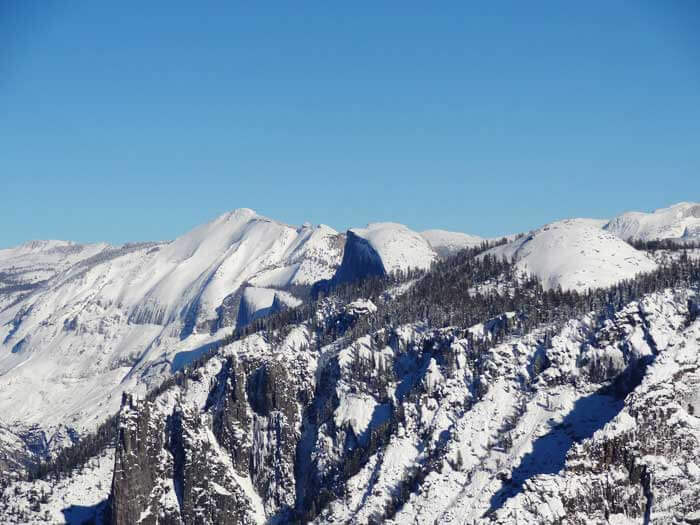 During summer peaks, on average Yosemite National Park gets more than half a million of visitors each year. During winter months, visitation to Yosemite is reduced to 118,000 of visitors. Visiting Yosemite in winter presents an amazing opportunity to explore and experience the park in a whole new dimension.
Exploring Yosemite in winter is addicting, not to mention a magical experience. When it snows, the whole park gets transformed into a glorious winter wonderland! The silence and beauty of Yosemite in winter is an unforgettable experience! Winter activities such as snowshoeing, iceskating, cross-country skiing, alpine skiing, sledding, snow-tubing and winter hiking are just some of the few activities you can do in Yosemite. With fewer visitors, you can find peace in this winter wonderland, and also adventure without lines.
Things I have Learned About The Place:
Winter in Yosemite is snowy and cold and daylight are shorter. Snowstorms can be unpredictable. During winter of 2017, I decided to do a solo trip to Ostrander Ski Hut from Badger Pass all in one day. I attempted to ski 20 miles all in one day. I left Badger Pass around 10:30a.m. and made it to the hut close to 4:00p.m. On the way back, however, I lost a huge amount of day light. The weather fortunately was on my side. Beautiful clear skies. No wind. No storms rolling in. I couldn't ask for a better weather.
Skiing on the way back in the dark, cold wilderness, I felt grateful for my flashlight, map, compass and the extra layers of clothing. Extra clothing kept me warm, and with my flashlight I was able to spot yellow triangle markings on the trees and safely got myself out of the wilderness. After this experience, I have learned to be prepared.
A list of Yosemite's Winter Activities to Check It Out:
1. Snowshoeing to Dewey Point (easy)
Yosemite's Dewey Point for me is the greatest one-day winter trek in Yosemite. Not only the beginner-friendly 7.2-mile (round-trip) snowshoe trek is a perfect place to see the views of Half Dome, Clouds Rest, El Capitan but also many outstanding views of surrounding mountains. Snowshoeing to Dewey Point in Yosemite National Park is a great way to explore the wonders and beauty of the park during a time of year when there are far less crowds.
The trail starts at the Glacier Point Road to the east end of Summit Meadow in Badger Pass area. The trail winds through a series of beautiful meadows , continues on to some more difficult hills, and ends at Dewey Point. Snowshoeing to Dewey Point in winter is absolutely magical, and amazing experience. So, strap on snowshoes and you'll enjoy some of Yosemite's most remarkable pinnacle-top views in total solitude.
Snowshoes or cross-country skis can be rented at Yosemite Nordic Center. Overnight camping is allowed but not at the point itself. More information and overnight permits can be obtained at the A-Frame in Yosemite Ski & Snowboard Area (formerly known as Badger Pass). Here is the Dewey Point map of all the winter trails in Yosemite.
Cross-country skiing or snowshoeing to Ostrander Ski Hut is an awesome experience! Ostrander Ski Hut was built in 1941, and it is located in the middle of the Sierra Nevada mountains. The hut's elevation is 8,550ft. and it is about 10 miles (16km) one-way from Yosemite Ski & Snowboard Area (formerly known as Badger Pass). The trek is definitely not the easiest and requires a lot of stamina. A majority of the people who do take the Horizon Ridge trail are intermediate and advanced level backcountry cross-country skiers.
Ostrander Ski Hut houses maximum 25 people. Single bed with mattresses, two outdoor toilet, facilities and community cookware are provided. No electricity or running water at this rustic ski hut. Carrying water from the lake, cooking your own food, and carrying sleeping bags is something you have to do.
Ostrander Lake provides amazing views. The views of Half Dome, Clark's Range, Mtn. Hoffman, Mtn. Dana and Mtn. Conness are not to be missed on this trip! They are spectacular! Yosemite Conservancy website has a lot of great information about the hut, reservations, and fees.
Have you ever wondered what would be like to see Glacier Point in winter and stay at one of the coolest ski huts in Yosemite? Or, have you ever wished to watch a beautiful Milky Way late at night and see a breathtaking sunrise the next morning? My cross-country skiing experience to Glacier Point Ski Hut was just that.
The distance from Badger Pass Ski Area to Glacier Point Hut each way is 10.5 miles (16.8 km). My best cross-country ski trail to the hut is Glacier Point road. Glacier Point skiing tracks are set by machine on the Glacier Point road. It is truly the best trail for beginners or those wanting a comfortable ski.
Glacier Point Ski Hut is located at one of the most spectacular sites in Yosemite National Park. Every summer, the Glacier Point Ski Hut operates s as a gift shop, but during the winter it transforms into a 20-person chalet. The hut includes several sofas, surrounding a wood stove and indoor lavatory facilities. Meals, sleeping bags, pillows are provided and the hut is well maintained during winter months.
Glacier Point Ski Hut Reservations are not always easy to get, so winter camping is also an option. Yosemite winter camping is allowed near the Glacier Point, but not at the point itself. Overnight registration permits can be obtained at the A-Frame building in Yosemite Snowboarding and Ski Area. Yosemite Mountaineering School and Cross country ski center has also more detail information about the trip and can be reached at 202-372-8444.
---
---
0 comments
Leave a comment