6 Top Places to Explore Along The Tahoe Rim Trail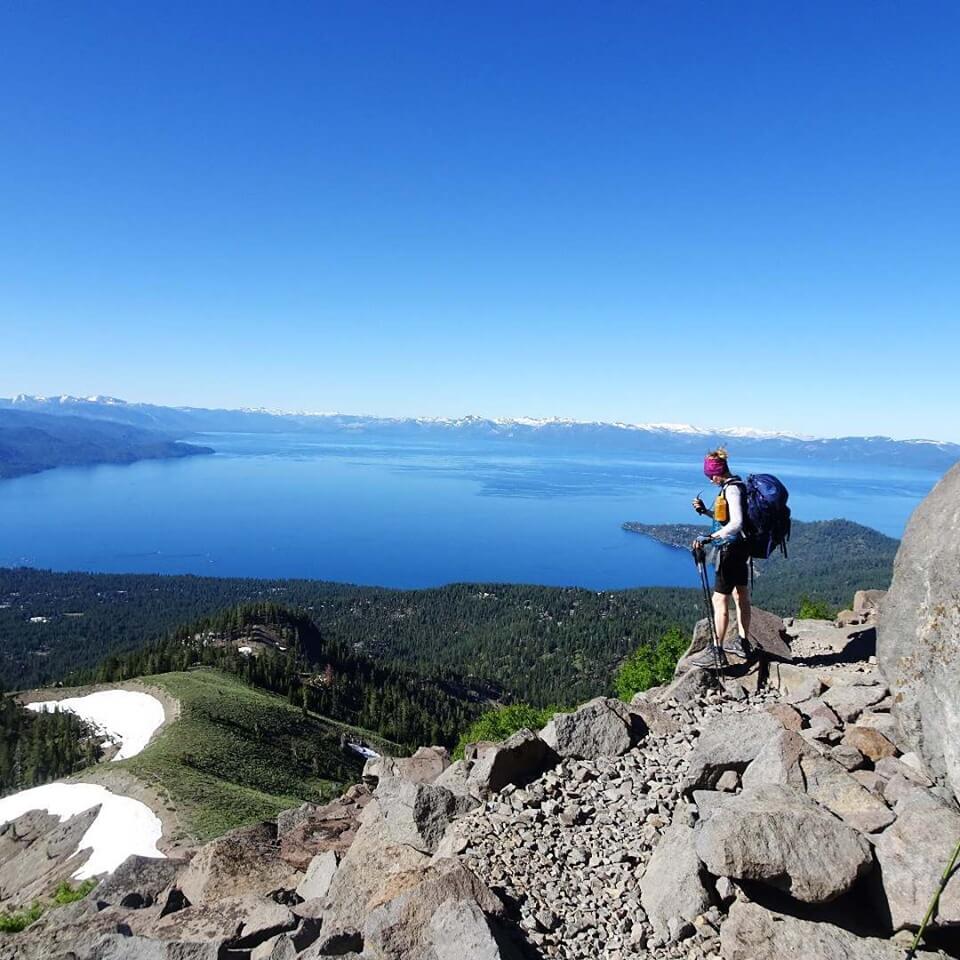 Battling summer heat, dehydration, bad blisters, skin rashes on my feet and having my hiking poles stolen are among few things I have endured while hiking the 165 mile Tahoe Rim Trail.  Hiking the Tahoe Rim Trail nevertheless is a one thru-hike I highly recommend to do!  It is a thru-hike you do not want to miss! It is an amazing trip!
Things I have Learned About Hiking the Tahoe Rim Trail
Mosquitoes on the west side of the Tahoe Rim Trail prior to hitting Barker Pass are the worst vs. hiking the east side of TRT. Carrying a bug spray, or wearing long pants and a shirt with long sleeves helps.
Avoiding summer heat and preventing any kind of heat exhaustion issues, starting early in the morning and hydrating well the night before helped me greatly on the trail.
Wearing wrong type of hiking shoes is the worst decision I've made on this thru-hike. After buying a pair of Salomon X Ultra Hiking shoes   at REI and 140 miles later into my trip, I had 4 terrible blisters on each foot, loosing one of my toe nails completely, and finishing my last 25 mile stretch wearing water shoes.  I will never buy another pair of Solomon "X Ultra" hiking shoes again!
Finding water on the trail, I use Guthhook App which helped greatly with finding small streams and creeks of water including on the east side of TRT.  On the east side, I also filled up my water at Marlette Lake and Spooner Lake.
I strongly recommend bringing micro-spikes.  Going through the Mt. Rose Wilderness heavy snow  fields and descending down Dicks Pass helped greatly with footing and balance.
Along with carrying water, food, etc. I also carry a topographical map, compass, and altimeter.  It is these three items that never leave my pack.  I rely heavily on them in case something happens.
5 Top Places to Explore Along The Tahoe Rim Trail
I started my thru-hike in Tahoe City going clockwise.  While hiking the TRT, I made an extra effort to check out some of the scenic most rewarding spots and side trails I could find along the TRT. Here are some of the spots to check it out.
1.  Sand Harbor Overlook. (a.k.a Christopher Loop Trail)   Mile 52.8
Sand Harbor Overlook is one of the the side trails I enjoyed exploring, and in my opinion offers one of the stunning views of Sand Harbor!  It is about .8 miles away from the TRT trail junction. I highly recommend checking it out.
2.  Marlette Peak (Mile 54.1)
Views of Marlette Lake, Lake Tahoe and Sand Harbor from the top of Marlette Peak are absolutely mesmerizing! It is 1.2 miles one-way from the TRT.
3. Lake Aloha. (Mile 128.1)
Lake Aloha is a large shallow back country reservoir located at an elevation of 8,116 feet in the Sierra Nevada Range, west of Lake Tahoe in El Dorado County, in eastern California. The reservoir is located in Desolation Valley, within the federally protected Desolation Wilderness area.  It is a beautiful place to stop and have a lunch, or camp out for the night.
4.  Dicks Pass (Mile 135)
Dicks Pass sits at 9,390ft. in the center of the Desolation Wilderness.  Situated in the geographic center of the wilderness area, it has superb views of Lake Tahoe, the Crystal Range, the Carson Range, and the entire northern Sierra Nevada. On a clear day, you can see Mount Diablo, the Sutter Buttes, the Trinity Alps and the Shasta-Lassen area from the summit.
Dicks Pass is a relatively straightforward climb from the Pacific Crest Trail.  It can also be easily climbed via the north ridge from the Fontanilis Lake area. I highly recommend getting to the top before the sunrise!  It is well worth it!
5.  Mt. Tallac (Mile 132.9  Gilmore Lake & Mt. Tallac Trail Junction)
Hiking to the top of Mt. Tallac has been on my bucket list for the longest time.  Mt. Tallac trail junction via TRT from Gilmore lake is 1.6 miles one-away which makes hiking to the top  much easier climb vs. climbing to the top from downtown with elevation gain of 3,300 feet with no shade what so ever. From downtown, the trail is mostly sun-explosed and it is 4.5-mile steep hike to the summit making it a challenging nine-mile round trip.
6.  Dicks Lake and Fontanillis Lake (Mile 137.3-138)
Dicks Lake is a place to remember and hard to ignore!   As you descend down the Dicks Pass on the north side, you will be rewarded in my opinion to one of the many beautiful alpine lakes on the Pacific Crest Trail.  The lake is absolutely gorgeous!
Fontanillis Lake is another beautiful place to stop and enjoy wild alpine views along the Pacific Crest Trail.  Fontanills Lake is not far from the Dicks Lake.  The two lakes are separated by only about a third of a mile. Both lakes press up against 9,374-foot Dicks Peak.  The lake is another place to enjoy the wild Desolation Wilderness views.
---
---