PSAR – Wilderness Safety Tips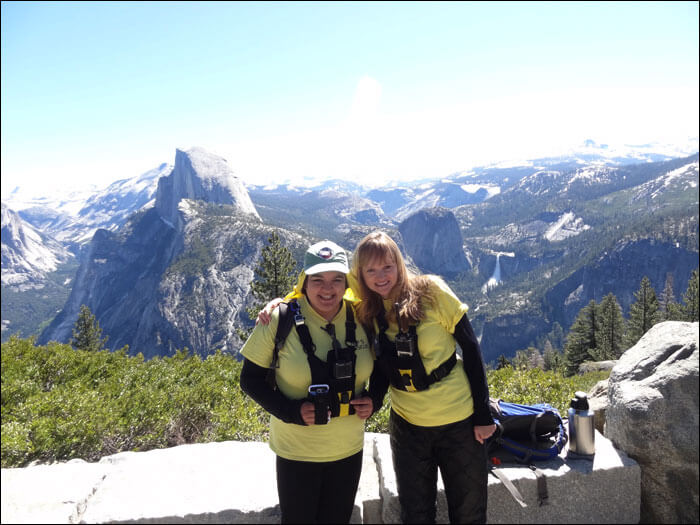 Each year, millions of people from around the world visit Yosemite National Park. These visitors are captivated by the waterfalls, steep granite cliffs, and rugged mountainous terrain. Tragically, each year lives are lost and between 200 and 250 rescues are performed, often because people did not understand their limitations in Yosemite's challenging environment.  According to Yosemite National Park Service, in 2016 there were 16 fatalities, 778 medical assists, and 329 search and rescue operations performed.  The need to educate visitors is imperative. That's where PSAR comes in. PSAR stands for Preventive Search and Rescue.
The Preventative Search and Rescue (PSAR) team helps educate visitors about conditions and assists visitors in choosing hikes or other activities that match their abilities. The PSAR team is comprised of an incredible group of volunteers who dedicate their time talking to people and who serve as ambassadors between Yosemite and its visitors.
In the summer of 2017,  I had the opportunity to volunteer with the National Park Service in Yosemite.
During my PSAR volunteering experience, I have had numerous encounters with visitors who come to Yosemite unprepared.  They have no knowledge about the area, they carry no map, food, water, and unfortunately get themselves in trouble while hiking Yosemite's challenging terrains. Here are PSAR wilderness safety tips for your next time visit to Yosemite (or any other national park, wilderness area, etc.).
PSAR Wilderness Safety Tips
1.
Always leave a plan with a trusted person. Your plan should include, at minimum, starting time and place, route, destination or goal, and return place and time.
2. Do some in-depth pre-trip planning, beyond setting destinations and figuring out routes. How steep is the hike? How much effort will it require? How much time should you allow? How much food and water is enough? Are there any known hazards? What is the weather forecast?
3. Stay on the trail or other developed areas. Almost all of our serious incidents occur off-trail, where you might run into water or dangerous terrain. If you're planning a hike that involves cross-country (off-trail) travel, make sure you have the necessary skills and equipment, and be well-versed in wilderness ethics.
4. Carry and consume lots of water. Poor hydration and nutrition on the trail can sap your energy and make you more vulnerable to cramps, exhaustion and falls. Aim to drink about a quart or liter of water for every two to three hours of activity. Replace sodium lost through sweat by supplementing your water intake frequently with salty, easily digested snacks, such as trail mix or nuts. Hikers who follow this fueling formula are often surprised at how much better they feel!
5. Respect your physical limits. Many Yosemite trails are steep, have difficult footing, and are located at higher elevations than your body is used to. At 4,000 feet, Yosemite Valley is high enough above sea level to make you feel more fatigued during physical effort than you would at a lower elevation. From the Valley, elevations increase; Tuolumne Meadows is at 8,600 feet, and some peaks rise above 12,000 feet. Altitude illness can occur above 6,000 feet, and the only definitive cure is to descend to lower elevations. Turn back if you need to, and remember that for many hikers, walking a mile on a Yosemite trail requires noticeably more effort than covering the same distance back at home.
6. Bring your "10 Hiking Essentials." A big part of staying safe is having adequate, appropriate supplies. Be sure to pack:
10 Hiking Essentials
1.Map and compass
2. Sun protection (sunglasses, hat, sunscreen)
3. Extra clothing layers (temperatures and precipitation can vary widely, and quickly, in Yosemite, even in the summer)
4. Headlamp or flashlight, plus extra batteries
5. First-aid supplies
6. Lighter or matches
7. Basic repair kit, including duct tape, a knife, and anything specific to your activity
8. Extra food, in case your plans change
9. Plenty of water (and a way to filter or treat water from natural sources)
10. Emergency shelter (tent, tarp, space blanket)
11. Don't forget the 11th essential, too: Your sense of fun and adventure. You are in one of the world's greatest outdoor playgrounds. Enjoy it — and stay safe!
---
---
0 comments
Leave a comment