4 Top Safety Tips for Crossing The JMT Passes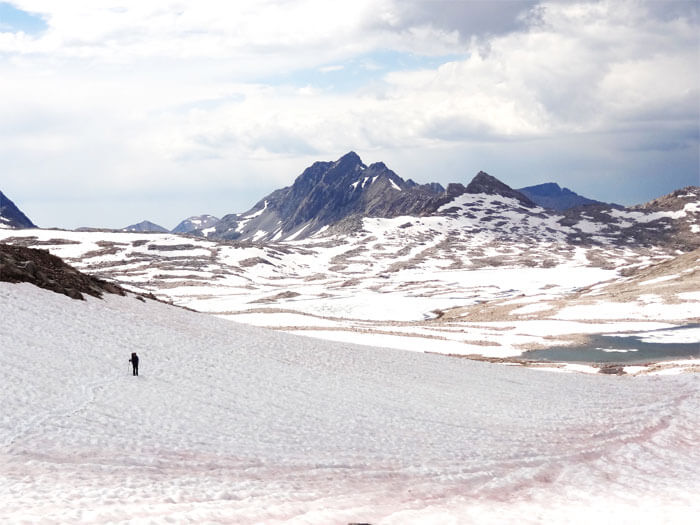 John Muir Trail crosses 6 mountain passes over 11,000 feet from north to south,  Donohue Pass, Muir Pass, Mather Pass, Pinchot Pass, Glen Pass, and Forrester Pass. Each pass on the John Muir Trail offers unique, wild, spectacular views that will leave you feeling speechless and in AWE!
Crossing safely each pass is another whole different endeavor.  Each pass may be very short,  consisting of steep slopes to the top of the pass, or  some may be a valley many miles long, covered in snow ,whose highest point might only be identifiable by surveying.  The purpose of this post, is to provide helpful tips for crossing the JMT passes.
4 Top Safety Tips for Crossing The JMT Passes
1. Camp At The Bottom
Camp the night before your ascent at the bottom of the pass.  The low oxygen at higher altitude directly affects the sleep center of the brain.  Sleeping at low altitudes helps you body recover so you can tackle high altitudes the next day. Frequent awakenings, a light sleep and less total time of sleep are the main problems, I experienced in the past when sleeping at higher altitude.  Sleeping at the bottom of the pass will go along way to giving you a good night sleep and and fresh start early in the morning.
2. Start Early
Tackling the pass early in the morning is much easier than late in the afternoon.  Weather temperatures are cooler and snow condition are hard, compact and crisp.  Having your crampons, or micro spikes will help with stepping and getting a good grip of the snow.
Weather patterns on the passes can also be very unpredictable, and thunderstorms can come out of nowhere in late afternoon. Starting you hike early is another reason you want to consider.
While hiking the John Muir Trail back in 2017, my JMT trail friend Peter and I  missed the storm by seconds after resting  on top of the pass longer than we needed to.  Had we stayed a a bit longer on top of the Muir Pass, we would be bunking up inside the Muir Pass Hut like so many other people who start their hike late and stay too long on top of the pass.
3. Watch Your Footing
Slip and falls are common if you are not careful or familiar hiking on the snow-fields and scrambling down loose rock.  Snow conditions are rough, and icy on Mather Pass.  Careful footing and having the right gear such as crampons, or micro spikes will help with balance and getting across the pass.
4. Physical and Mental Preparation
Hiking for 15-19 miles a day, burning close to 3,000- 5,000 calories a day, crossing heavy rivers, developing blisters,  experiencing shoulder, back, and hip pain will  begin to take your body out of your comfort level.  Getting your body physically prepared in advance will go along way preventing unnecessary injuries on the trail.  Hiking the JMT is not the time to get your body physically in shape.  Many have tried, and unfortunately some abandon the trail due to injuries and altitude sickness.   Be prepared physically and mentally, and it will go along way to safely tackling the JMT passes.
---
---